1.5 Million volunteers broke the Guinness World Record in the state of Madhya Pradesh in central India by planting 66 million trees along the river Narmada within a span of 12 hours.
They broke the record set by Uttar Pradesh, a neighbouring state where 50 million saplings planted by 800,000 participants in just a day way back in the month of July 2016.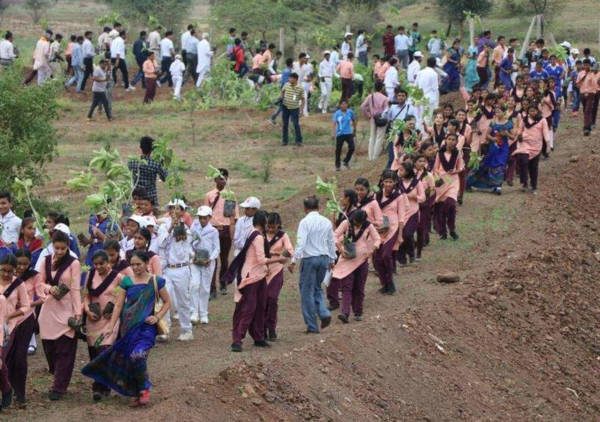 The Madhya Pradesh Chief Minister lauded the accomplishment of the people of the state and expressed immense pride at the stunning feat. Volunteers from his state had successfully planted 6.63 crore trees, which is 66.3 million, within a day. This stupendous achievement was also observed by officials of the Guinness World Records, who monitored the plantation drive undertaken on a Sunday. We expect to release their findings soon and confirm the efforts of the people of the state.
According to a press release of the government of Madhya Pradesh, the mammoth initiative to plant saplings was to make the people of the state of Madhya Pradesh aware of the national campaign named "Make India Green Again". This effort also happened to restore some of the greenery as part of a nation-wide campaign to replenish the forest cover which has been depleting at an alarming pace.
The Indian Government was keeping its part of the pledge to increase its forest cover from 5 million hectares to 95 million, which is 235 million acres, by 2030. To achieve this, the Government was putting in $6.2 billion as part of its pledge. As such a large number of saplings could not be accommodated only along the banks of the Narmada, the catchment area of the river was also included in the drive. The Madhya Pradesh government has taken a laudable step.
The chief minister expressed his indebtedness to all the participants of the campaign to plant trees. He said that the people would be making a momentous contribution towards preserving the greenery and helping in the greater initiative to save the Earth's environment.
I am extremely proud to happily share that people of Madhya Pradesh successfully planted 6.63 Crore saplings today. #MPPlants6CroreTrees pic.twitter.com/5jlJcApomi

— ShivrajSingh Chouhan (@ChouhanShivraj) July 2, 2017
India is in the unenviable position of being the third largest generator of carbon emission. The Indian Prime Minister Mr.Narendra Modi reaffirmed India's commitment to the Paris climate deal even while the US withdrew from the deal. At a joint press conference with the French President Emmanuel Macron, the Indian Prime Minister reiterated his vows to protect the environment.
This kind of initiative compensates to a certain extent the large scale deforestation taking place all around and is not new to India. But such drives should have a follow-up plan to nurture the saplings and ensure that the maximum numbers survive. Simultaneously educating the younger generation about the functional aspects and advantages of afforestation. They need this so they can realize the urgency of the situation.