Everyone has their own motivation for happiness and for Liz Haslam, it is living in the world of her dogs. The love and gratitude that she gets from caring for them fuel her and she wouldn't have it any other way. This love made Liz take a hard decision and she has not regretted it.
A Dogged Life
She found love at 16 and married Mike just after she completed high school. She settled in the countryside in Barnham in Suffolk. Ollie is their only child and they were married happily for 25 years when life took an unexpected turn for them. Neither their stable life nor the longevity of their marriage could save them from what was to come next.
A Life Devoted To Caring
When she shifted to the countryside she started a business which gave her more satisfaction than money. She loved dogs and she started a foundation, Bed for Bullies, for sick and homeless bull terriers. But her husband decided that it was hampering their family life and gave her an ultimatum. She would have to decide between the dogs and him. Both could not stay in the house. She chose her dogs.
Dogs have been an integral part of her whole life. Her father owned an animal feed company and her mother owned West Highland Terriers. Her husband failed to see the extent of her love and unwisely forced her into a decision.
Liz respected his decision but was firm in her commitment and love for her dogs. She concedes that she had little time for Mike. Mike and Liz parted amicably and have since drifted apart. She gave her time wholeheartedly to the dogs. She devoted almost 18 hours of the day caring for the dogs and spends a fortune on food and medicines.
Family portrait!
Liz Haslam with some of her bullies…
It's only 5 but getting 5 to pose is hard enough!
❤🐶❤🐶❤🐶❤🐶 pic.twitter.com/21lU1fGAYq

— Bedsforbullies (@bedsforbullies) June 4, 2018
Persistence Pays
'Beds for Bullies' takes care of over 200 dogs rescued over the years and continues to accept more each day. It relies mainly on donations and offers to house pets whenever the owners go for vacations. Liz also takes in dogs rejected by their owners.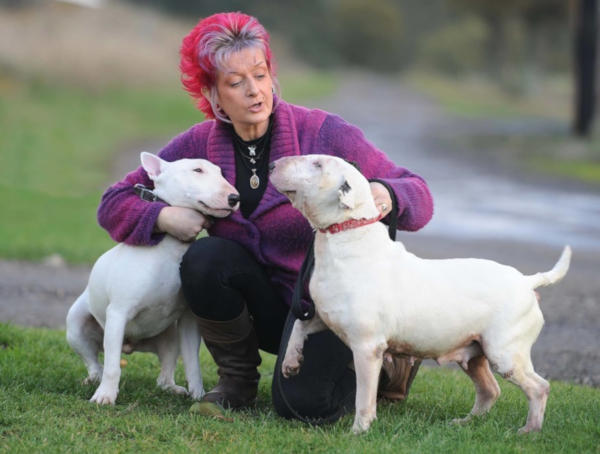 The situation has been grim at times as she has to foot a veterinary bill of over $4,500 and for a brief period, she was forced to live in a tent as she was unable to pay her rent. But she has recovered and declares confidently that it is her choice and she loves looking after her dogs. Her bravery is commendable and she is to be lauded for taking care of the dogs in spite of having been forced to make great personal sacrifices.