Although mistakenly perceived as a ferocious breed, pit bulls are actually gentle, nurturing dogs who make for good pets when trained properly. We've all heard multiple stories of dogs being heroes in times of danger and pit bulls also deserve their due credit.
An unfortunate event
For the Chaichanhda family, the night started out as usual. Their baby had been tucked into her bed and the parents had retired for the night not knowing that their lives would be changed forever. The blaze that consumed the building that night will always be etched in the memory of everyone who used to live there.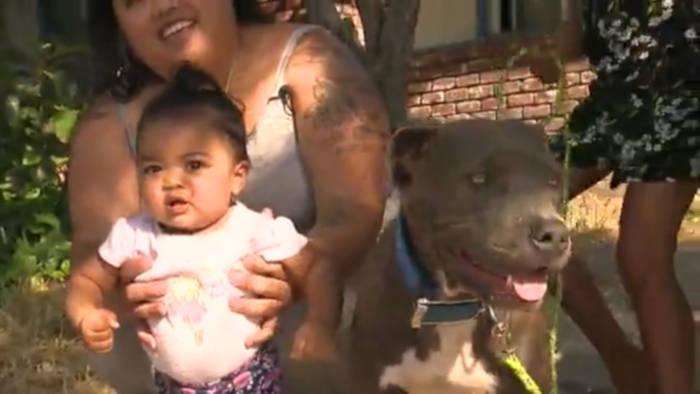 Luckily, the Chaichanhda's had a savior with them. When their Stockton apartment started burning, Sasha, their pit bull who is barely a year old, began to bark from outside their front door. She'd been let out for the night and this was not something she'd usually do. Sensing the blaze spreading out from a nearby building, Sasha began to make as much noise as possible in order to alert her family.
Quickly realizing that something was wrong, Nana came outside and saw the building burning. She rushed to her baby's room to get her out but to her surprise, Sasha was already there. In the midst of all that chaos, Sasha had managed to get in before Nana. She'd climbed into the bed and picked up the toddler by her diaper and was doing her level best to drag the baby out of the bed, to the safety of the outside world. The building was on the verge of falling down and Sasha was risking her own life to drag the toddler out when her mother entered.
A heroic dog
Grabbing hold of her child and her pet, Nana ran out of the burning building as fast as she could. Her brave dog had saved not only her and her husband but also their baby. By the time Nana found them, the dog and the baby were already outside the room. Sasha didn't pause to think for a second about the possible dangers when she dashed in to save the sleeping child.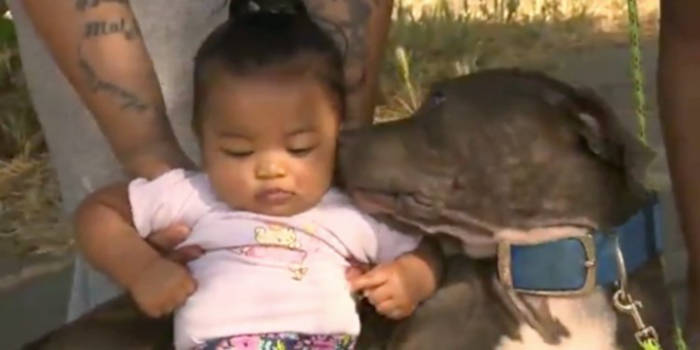 The fire was massive and the entire building was gutted by the time it was put out. If it hadn't been for Sasha, many lives would have been lost. Nana's cousin was also a resident of that apartment and for the time being, both families are staying with their aunt who lives close by. Their aunt is also incredibly grateful to Sasha for keeping her family safe.
Currently, the reason for the fire is being investigated by the Stockton Fire Department as no one knows what set it off. All the residents of the area were amazed when they heard about Sasha because most hadn't trusted her till now. They now have a better understanding of pit bulls and a lot of people have stopped by to shower praises on her.
Nana herself knows how lucky she is that Sasha is hers. If she hadn't been barking, they wouldn't have come out at all to learn about the fire. She's planning to give Sasha a special reward for her courage.