Love can do wonders for people and for animals too. The sad fact is that many people and animals are abandoned and unloved and this results in terrible physical and mental trauma for them. People have doctors and psychiatrists to take care of them, but animals, once abandoned, are doomed. They can contract skin diseases and that will make them more alone. But as humans, we are kind and empathetic.
Here are 30 photos of rescued dogs while they were in terrible conditions, and their transformation over a period of time:
1. Starved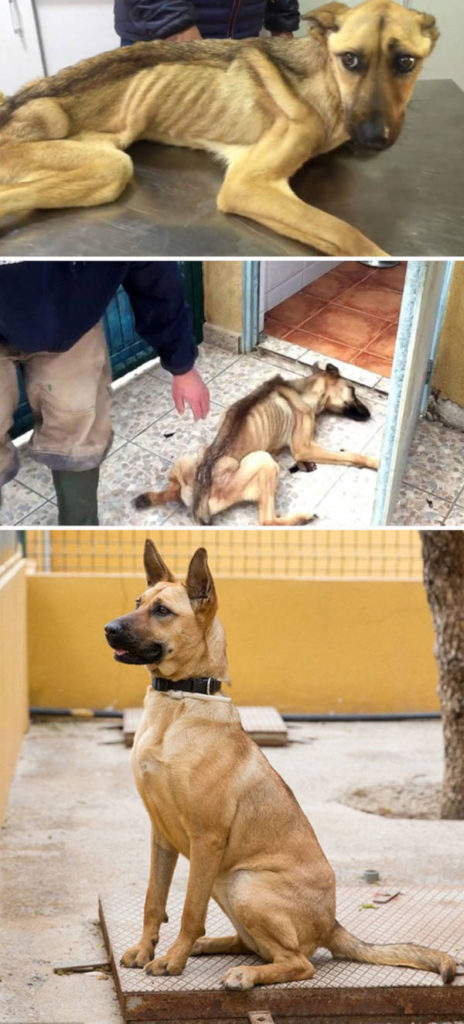 He was starving and so weak that he was not able to stand up. Within 7 weeks, he's healthy and happy.
2. Burnt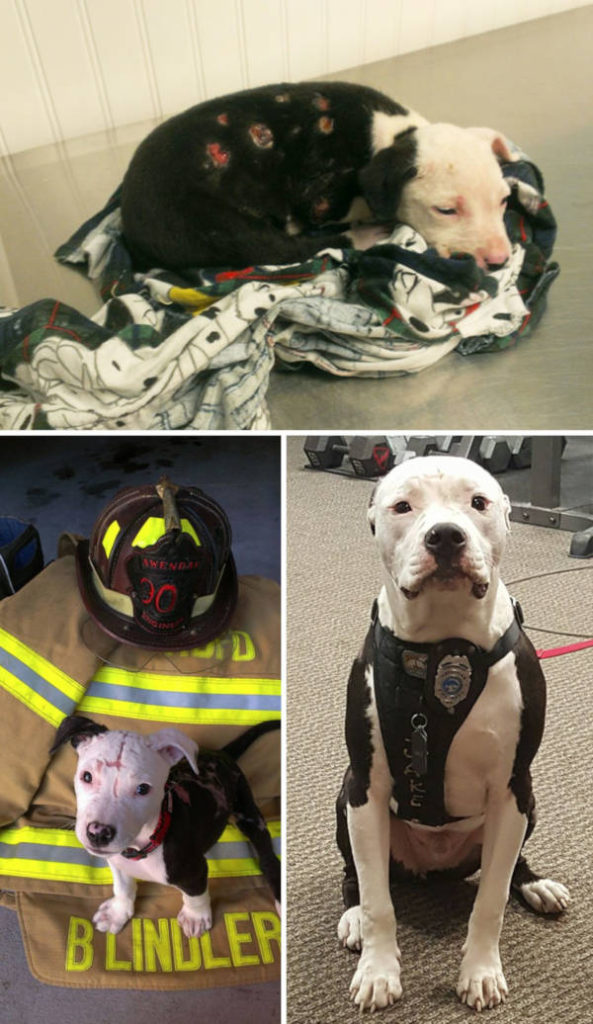 The fire had almost consumed this dog and he had about 75% burns on his fur. Even her paw pads were scorched. But the firefighter took him home and now, he is helping them in fighting the fire.
3. Coconut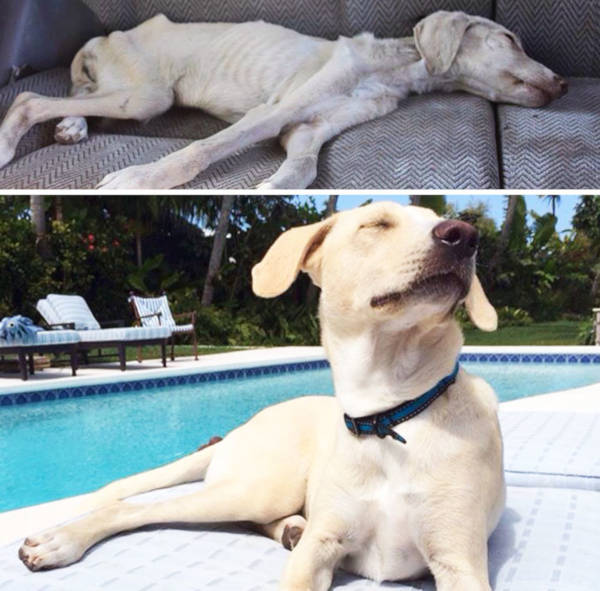 Starved and emaciated, Coconut needed a lot of love. And he got it. Now, he's basking beside the swimming pool.
4. Augustus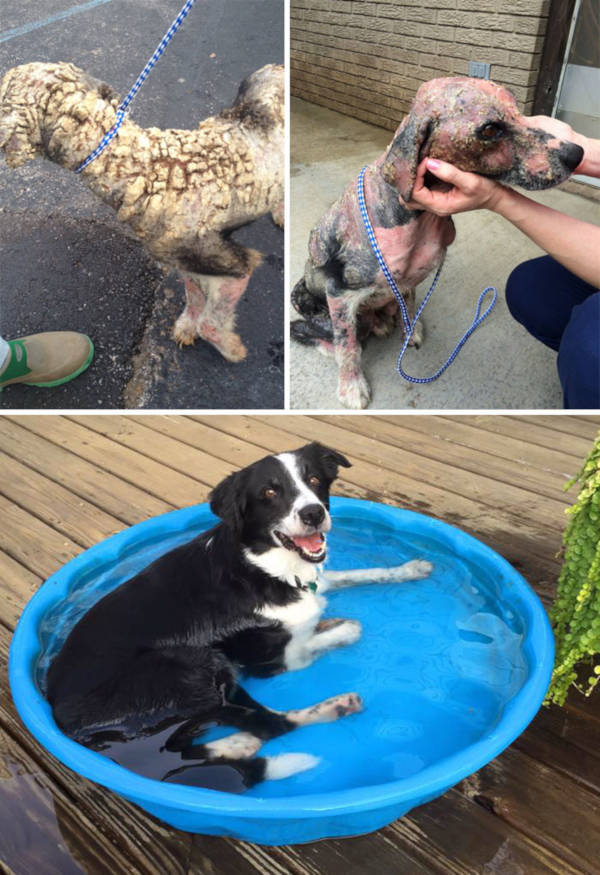 Terribly scabbed, nobody would have looked at this dog. But after treatment, he's a beauty.
5. Mange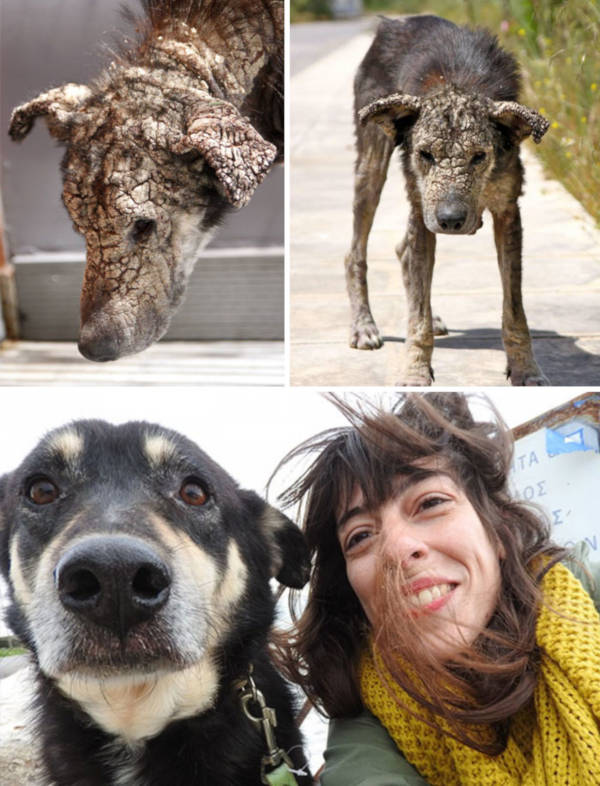 This dog was suffering from mange and as a result, his skin looked broken and dirty. But with human treatment, he has recovered and now wants belly rubs all the time.
6. Pitbull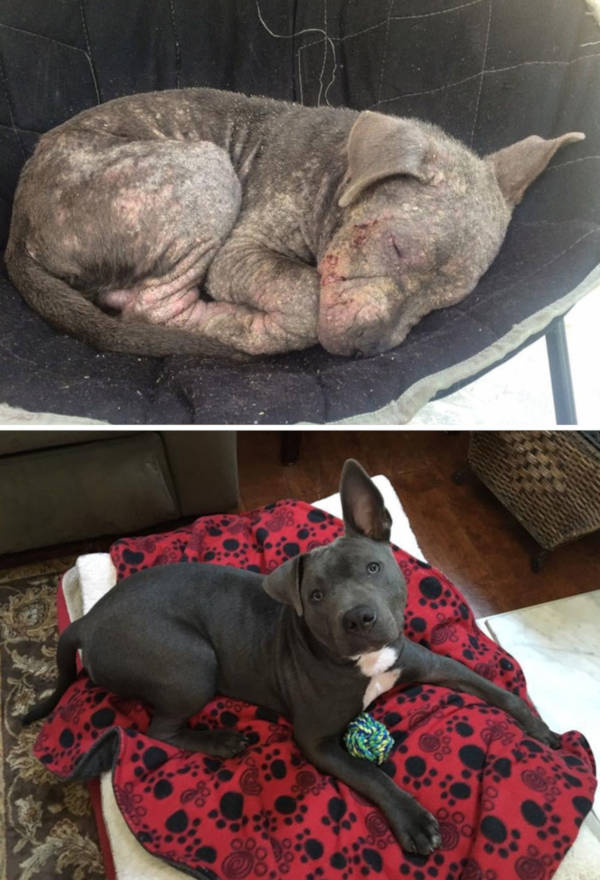 This Pitbull was tied outside a store. He had an eye infection and was suffering from serious mange. But now, he has recovered and looks completely different.
7. Miley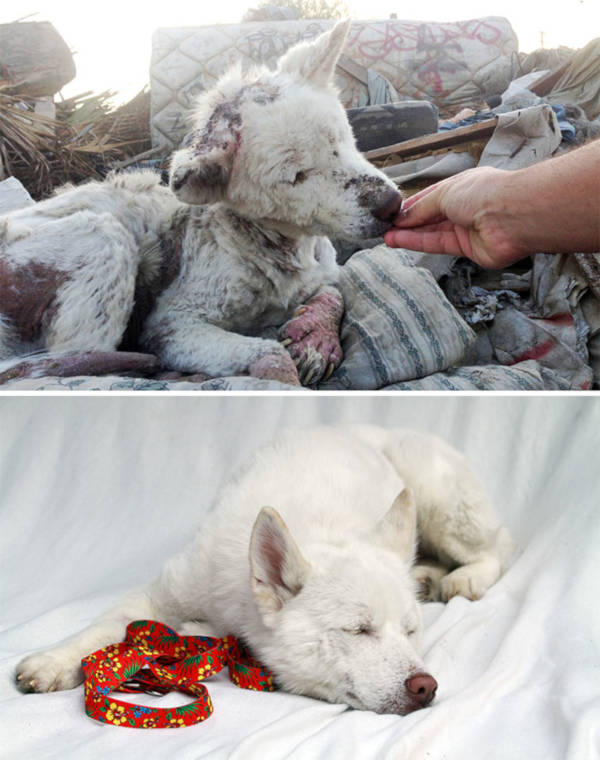 She was found in the trash pile and was so weak that she couldn't even walk well. Well, now, she looks cute and delighted.
8. Astonishing Recovery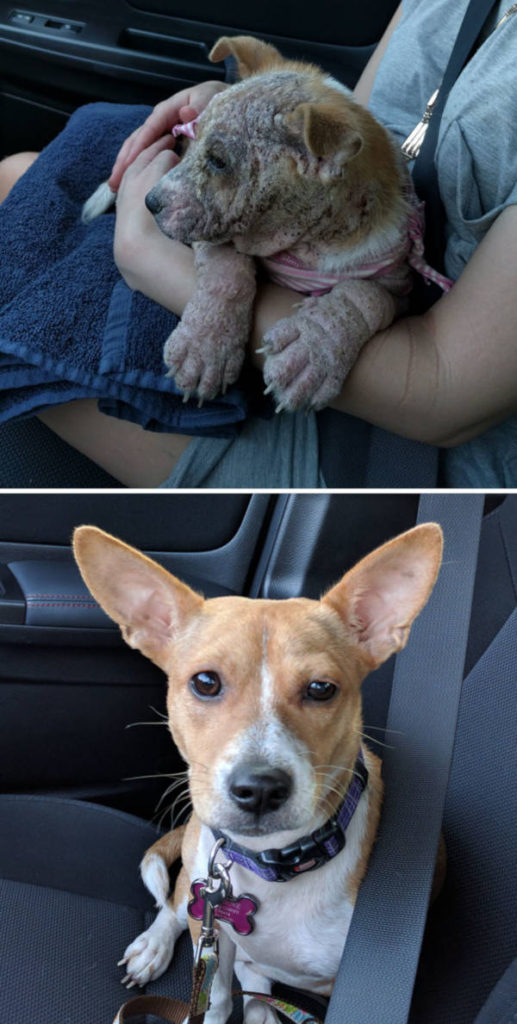 She was really suffering and she had Demodectic mange all over her skin, infection all over her body, and even pneumonia. She had to be saved from the pound and she was. Within 2 and a half months, she is her old self.
9. Copeland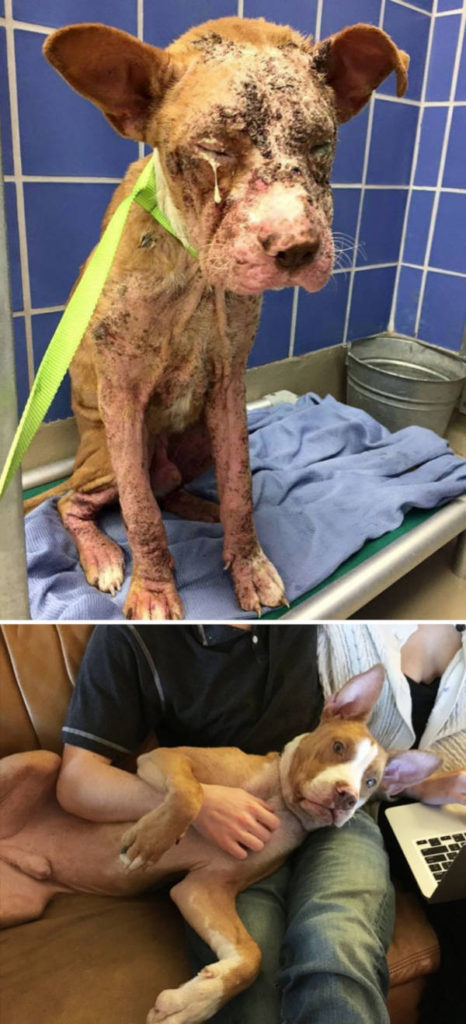 He has mange and infection all over her body. After recovery, he probably couldn't believe the better state he was in now.
10. Streets of Montreal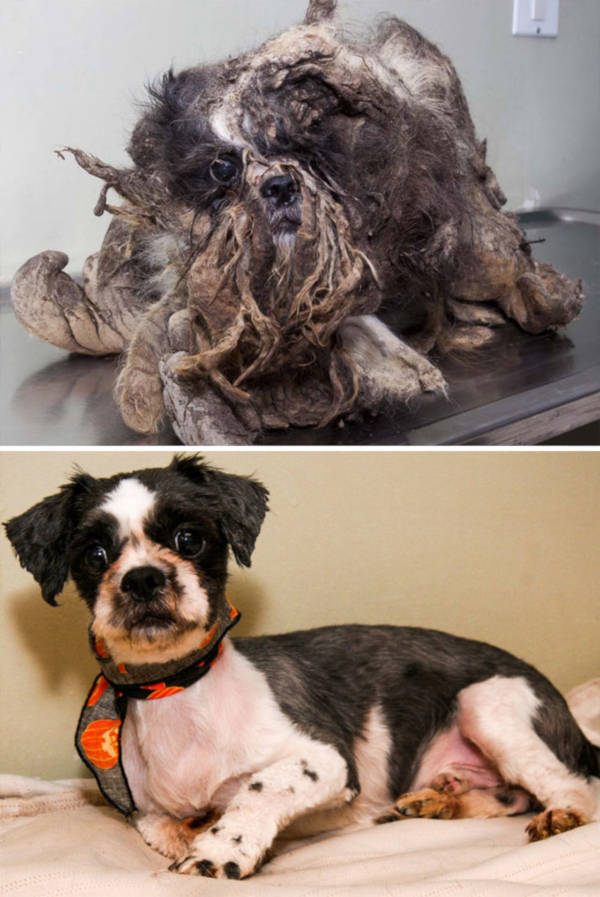 He had all kinds of dirt accumulated on his body and looked filthy. But now, he's looking handsome as ever.
11. Kelsey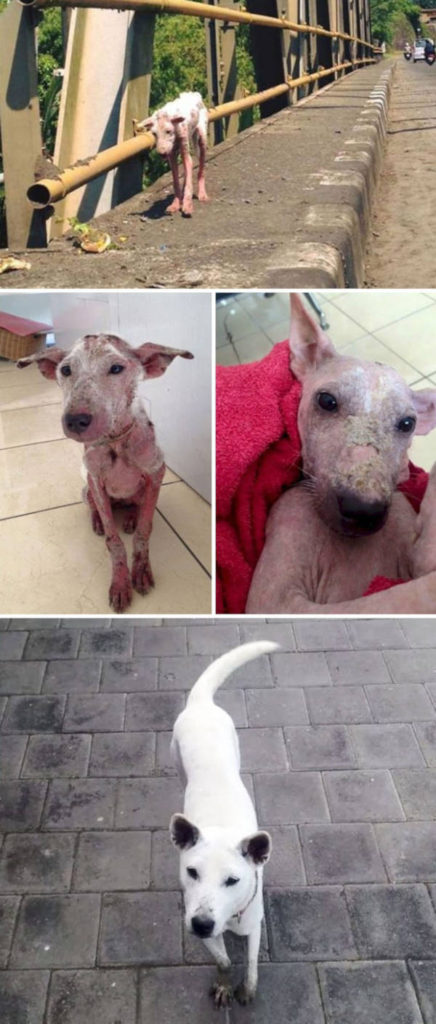 She had parasites all over her and was dirty. But a generous stranger took her home and now, she looks beautiful.
12. Back Home

The dog was starving. He just ate rocks and twigs to keep him full, even though they had no nutrients. Now, he was home and full.
13. Hudson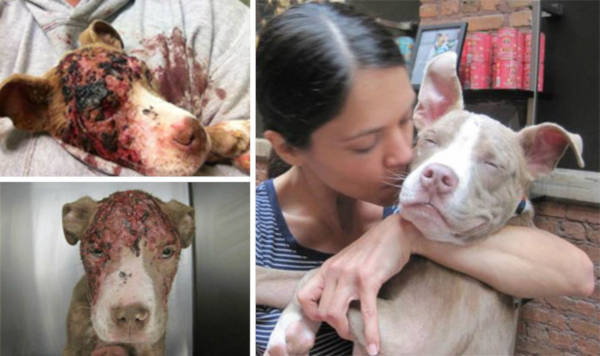 He suffered through a fire and was used as a kind of bait dog when he was a kid. Whatever cruelty he suffered is now a thing of the past. He is in the hands of a kind human.
14. Miss Minda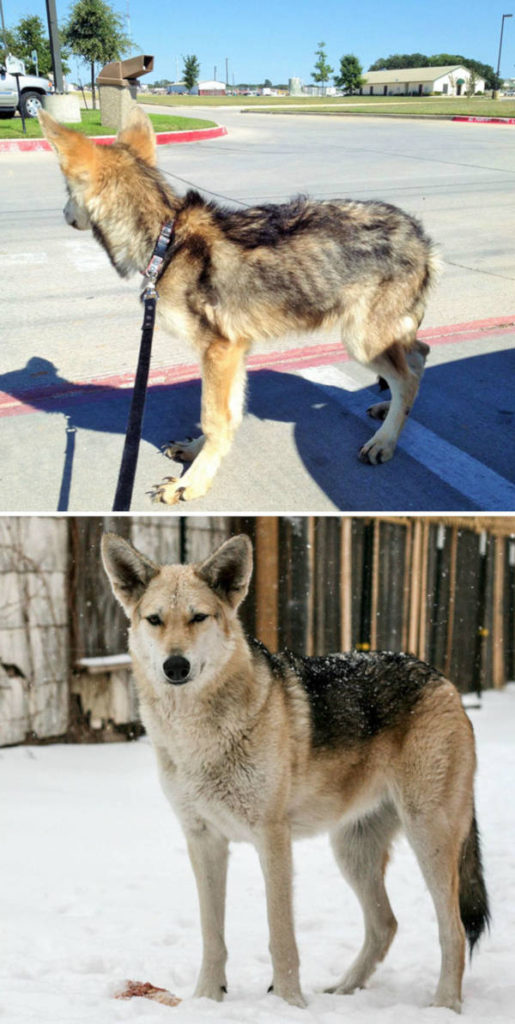 She was famished and was not given any food for a long time. A year later, she looks like she can run the marathon.
15. Dying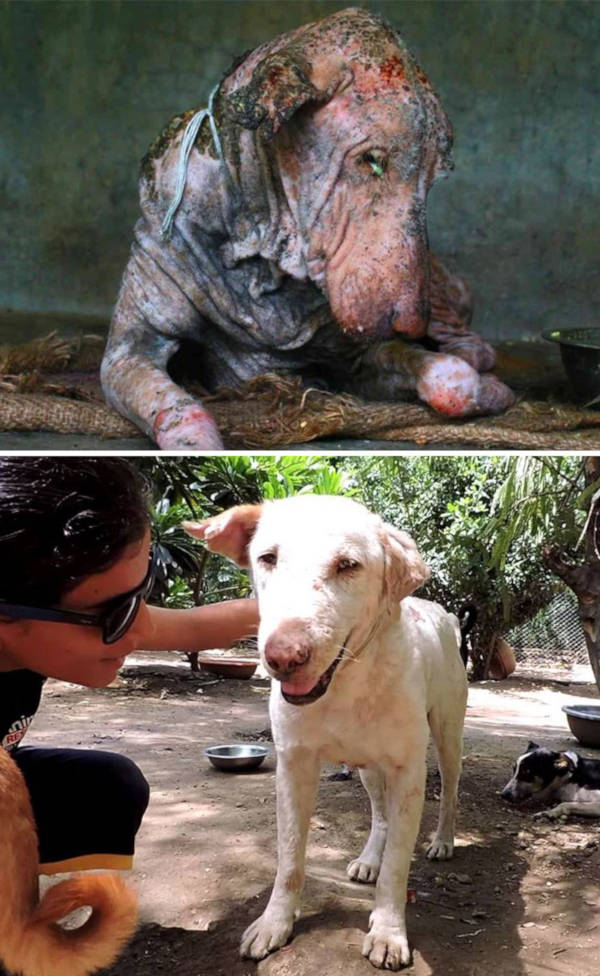 This dog was dying. Left alone and isolated, it needed a human connection but never got any. Well, now, the dog is in the right hands.
16. Kenzi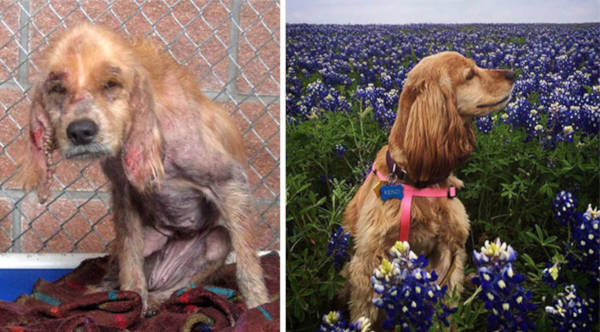 This dog was clearly facing abuse and neglect when she came to Cocker Spaniel Rescue Of Austin & San Antonio. Now, love has transformed her into a lovely doggo.
17. Hot Tar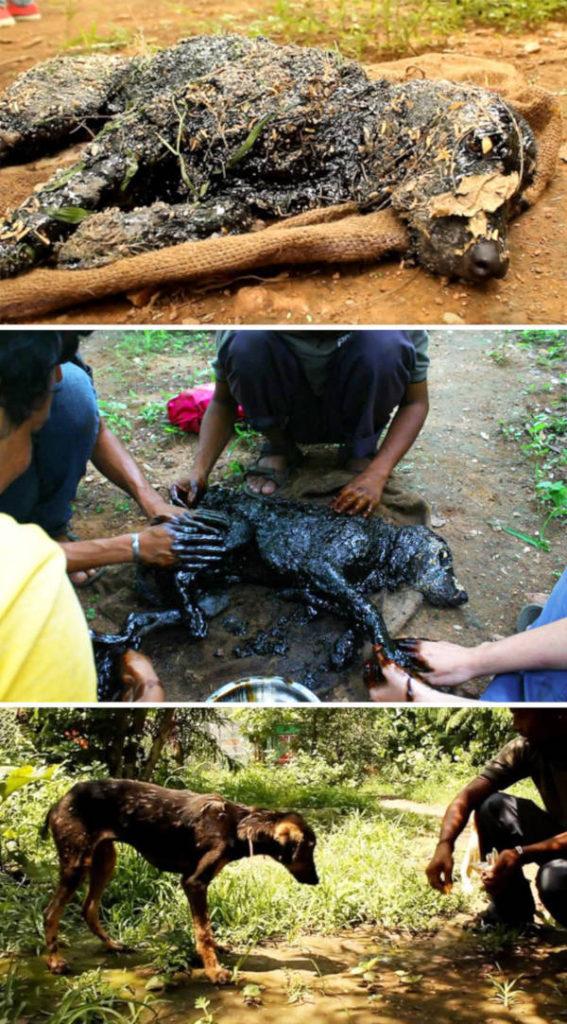 The dog had accidentally fallen into hot tar and was clearly dying. No one was around to help. Until someone heard it yelp. After three hours of hard scrubbing, the suffering dog was rescued.
18. Ungroomed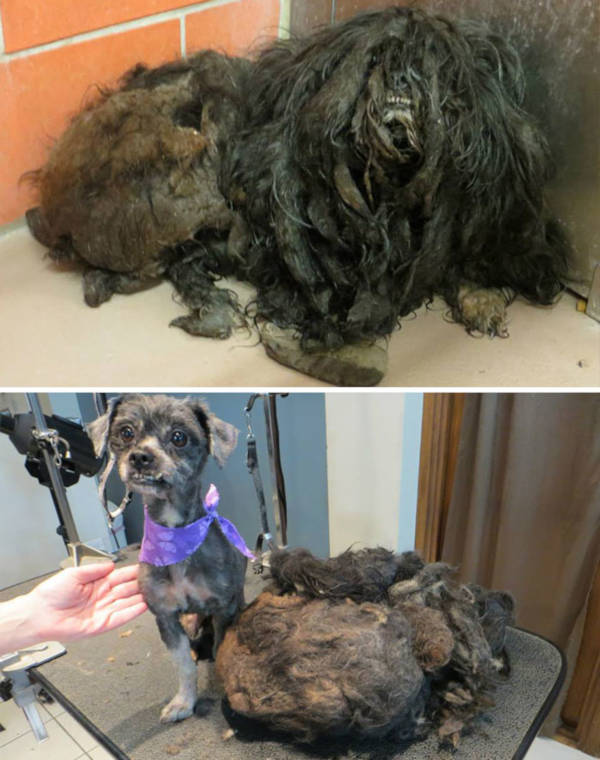 Without any human connection, this dog's fur overgrew and attracted mud. Now, with all the fur cleared, she looks amazing.
19. Iggy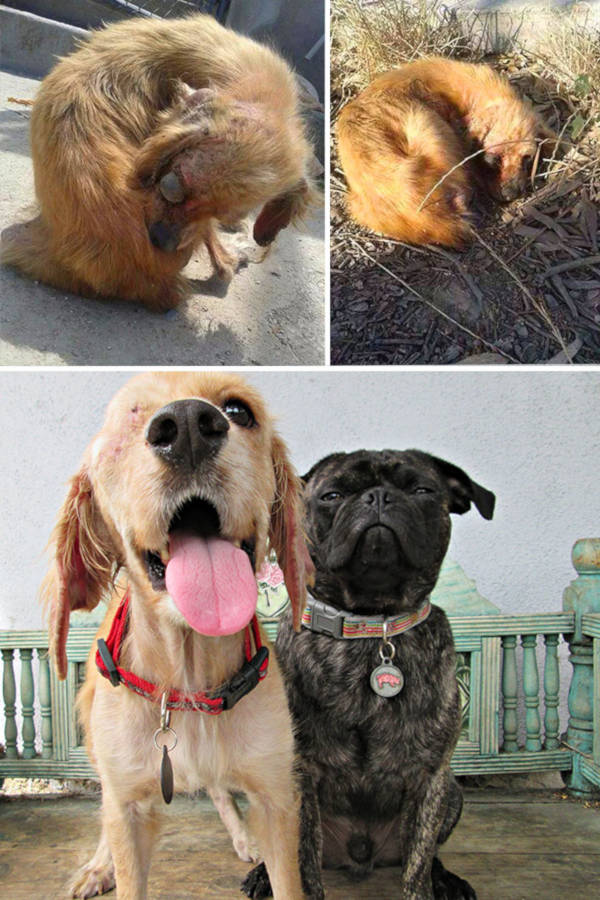 He had a terrible eye infection. Thankfully, a person uploaded his image of Facebook, got donations for his treatment and now he looks healthy, although he lost his eye.
20. Betty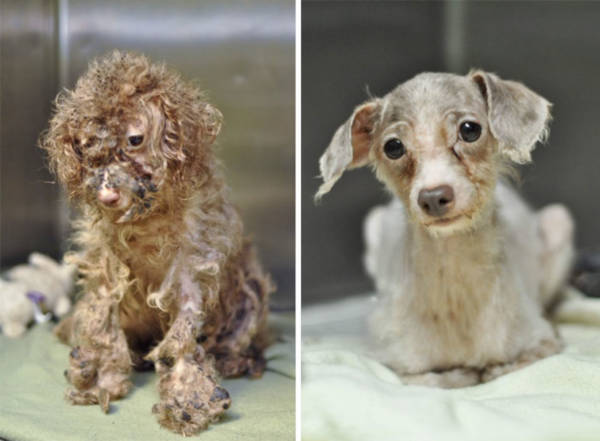 Left by her previous owner, Betty was is a terrible state. Her new home gave her a new life.
21. Cedar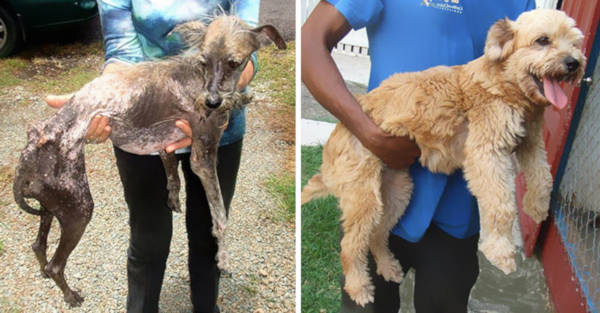 Cedar was starving and stressful with no hair and a bone coming out. After a few months of care, he is joyous.
22. Max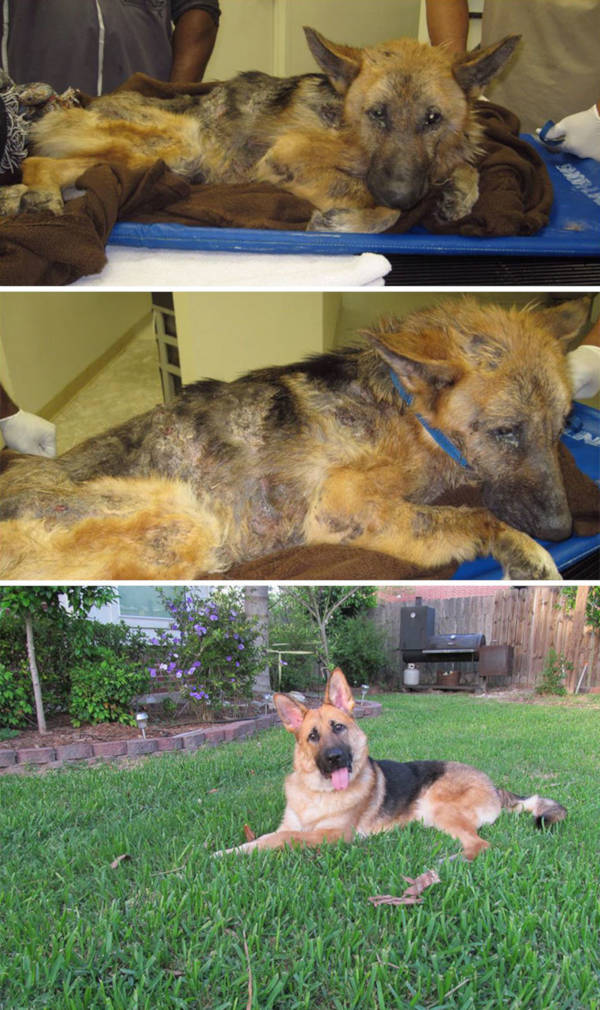 Neglect is a form of abuse and this dog shows it. But now, with proper care from the vet, he is back to his former state.
23. Love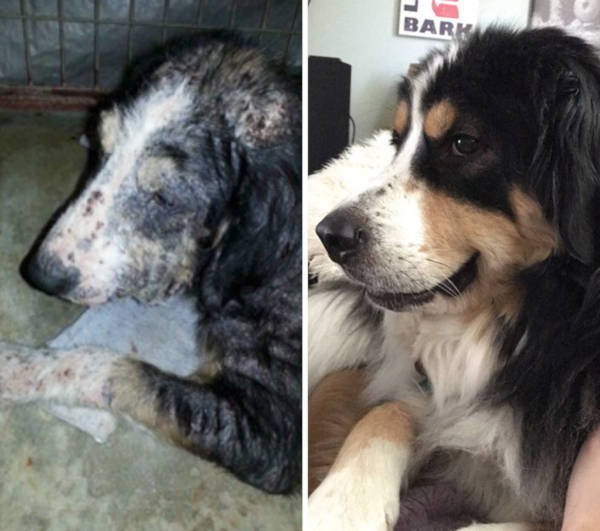 Infected and with mange, this dog needed love and in his new home, he got it.
24. Abandoned

This dog was abandoned and had developed infection and maggots all over his skin. He smelt bad too. But Pennsylvania Veterinary Hospital took good care of him and he is now healthy!
25. Gage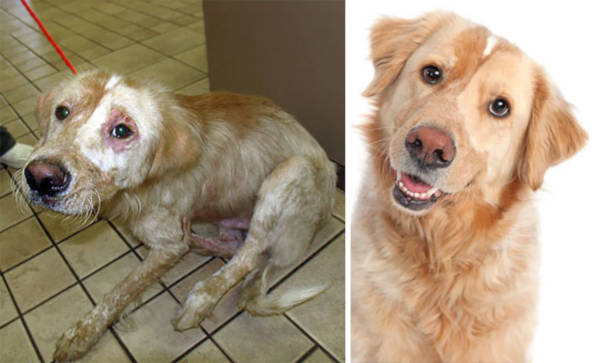 He was mistreated and abused. He did not want anything to do with humans. But after his care, look at how he smiles.
26. Treasure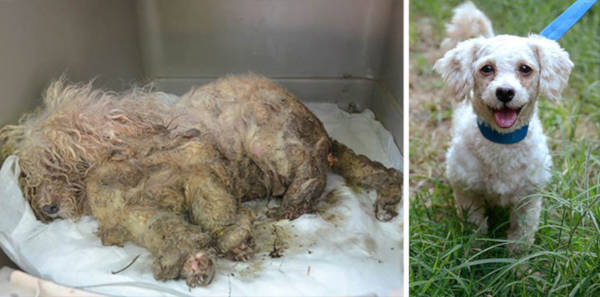 This Purebred Miniature Poodle was found on the road by a motorist, neglected. She was brought to Natchez-Adams County Humane Society where she was taken proper care of.
27. Happy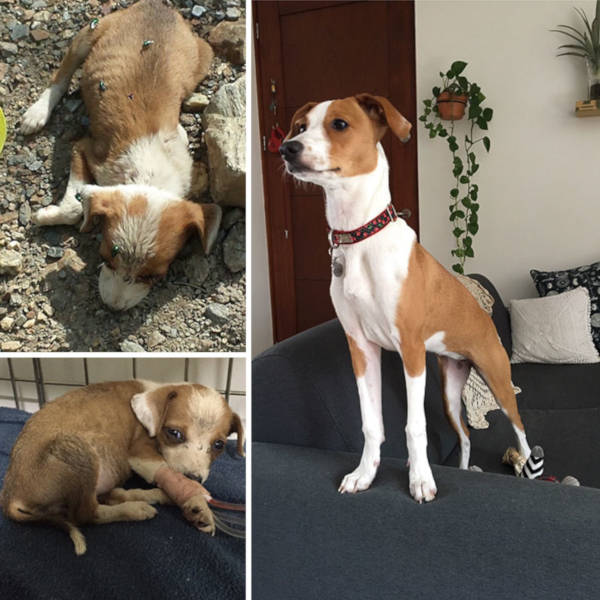 With flies covering her body, this dog might have been dying. Now she's living her life.
28. Rescued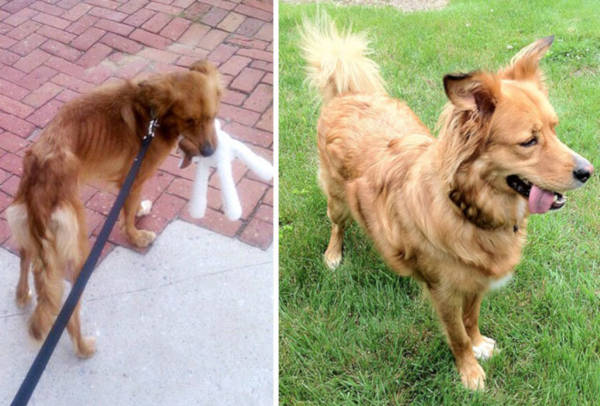 Within a year, this dog was rescued and cured of his starving state.
29. Saved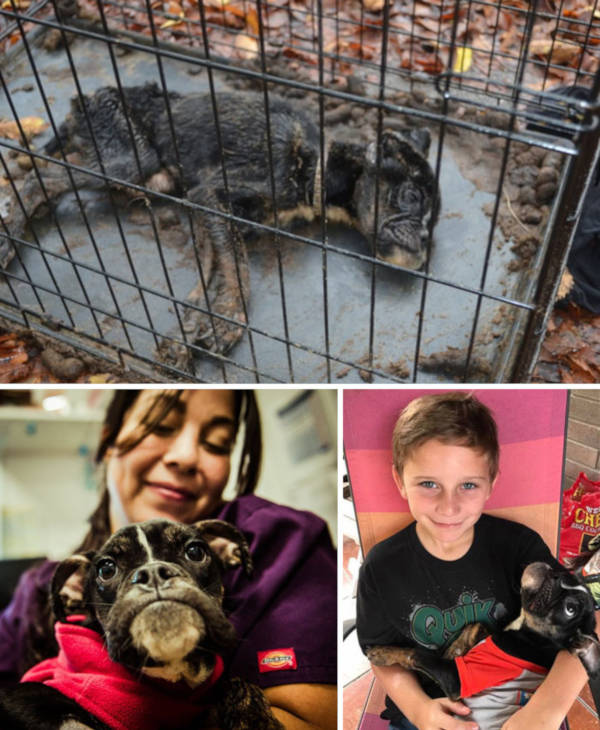 The dying dog was covered with his own feces and was about to die. It was saved from the cage and now, he is locked by the power of love.
30. Shrek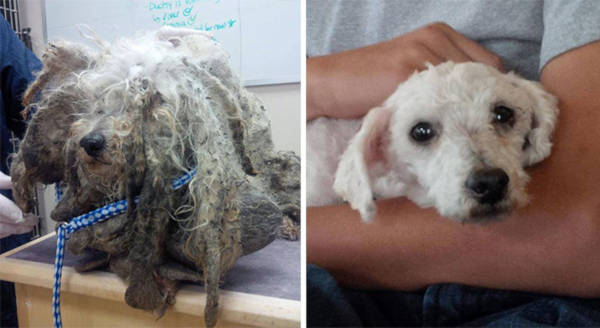 Due to sores and mud, this dog did not have any mobility. But when he came into the hands of a kind human, his hair was shaved and now the Maiti-Poo dog is enjoying life.
Love can make things happen. All it took for these dogs' recovery was kindness and a bit of love. It saved them from the brink of death.