A rare genetic disorder – Retinitis Pigmentosa or RP – is capable of damaging the ability of the retina to respond to light. It does so by disabling the retina's rod photoreceptors. The National Eye Institute has estimated that 1 in 4000 individuals from all around the globe is diagnosed with Retinitis Pigmentosa (RP).
However, in the UK, people who have been diagnosed with Retinitis Pigmentosa and lost their sight, as a result, can seek hope – thanks to the NHS or National Health Service funds and initiative to implant a device in ten patients for the treatment of blindness. And that device is a bionic eye!
The bionic eye device is called the Argus II Bionic Eye Implant. It is designed and created with a small camera that is mounted on a pair of glasses, which the patient has to wear. The camera derived images through electrodes are converted into wireless signals that into the retina of the concerning person. The electrodes – then – help in the simulation of retina cells. Once the simulation is complete, the retina cells transmit information that to the person's brain – which – gets restored in the form of sight and help the person to see.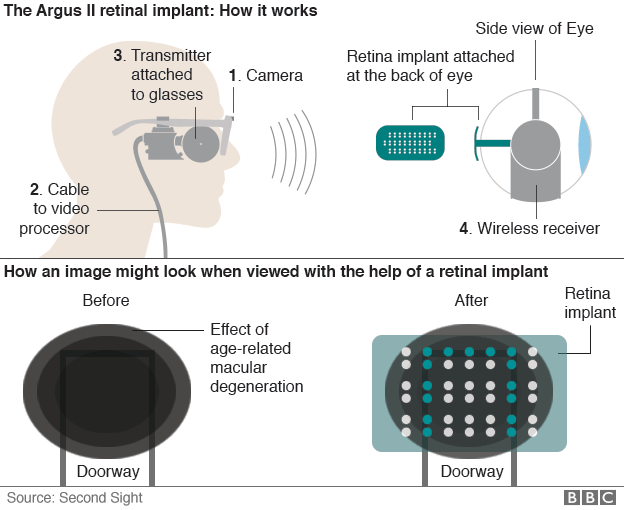 The NHS-funded implant is a super innovative procedure that is capable of changing millions of lives in the world, says the director of NHS England – Dr. Jonathan Fielden.
The program is being used in the UK – where an estimated 16000 individuals are diagnosed with this disorder. Out of 320 people, only 160 of them are capable of undergoing the bionic eye implantation.
Advances in research and technology in different fields of science have displayed a lot of hope and promise in the prevention blindness and restoration of sight. Google DeepMind, which the AI research subsidiary of Google's Alphabet has further developed an artificial intelligence algorithm that is capable of detecting retinopathy. There is also a gene therapy that is capable of curing blindness.
For more info, click here. ( futurism.com )