Grandpa – whenever this word comes to your mind, it brings in a lot of stereotypical images – an old, weary man sitting on his reclining chair, looking outside the window, or maybe an old man who is retired to gardening. Now imagine an old man sitting hunched on his computer, tapping the mouse frantically and trash talking as he takes down enemies on screen. Sounds unbelievable, right?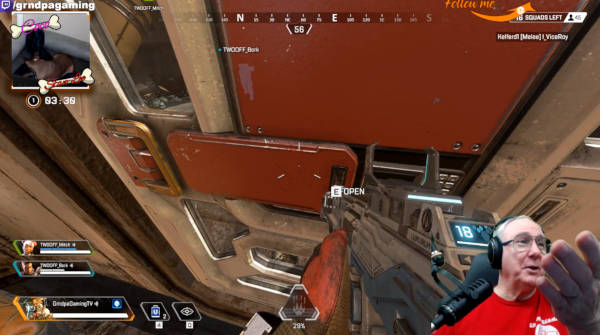 But that's the image that 'GrndPaGaming' will bring up for you. The ex-Navy diver has become a big deal in the live video streaming platform, Twitch – a place where hardcore gamers tend to visit, live stream and chat. GrndPaGaming has become a legend in Twitch, getting about 150,000 followers under his belt. The 66-year-old has served in the US Navy for about 20 years and 4 months. He resigned back in '92. He loves to tinker with a bit of astronomy and calls himself an amateur astronomer. He goes around the world collecting seas shells. Sometimes, he likes to do a bit of cooking too. But after all this, he enters into the world of gaming.
Grandpa was married two times and has a daughter. He even has two grandchildren. However, behind all this happy news, there are some problems that Grandpa faces. Despite his old age, he does have the potential to connect with the new generation – through Twitch and gaming. But he is a hero not in games too but in real life. The veteran is a Cancer survivor but the medications and radiation therapy has taken a toll on his body.
While working for the Navy, he has got many injuries. He even has a plate in his neck which pains at times. His right hand is almost paralyzed too, with no feeling on his thumbs and fingers. Hence, his use of keyboard and mouse is mediocre – lacking the full potential that a young gamer has. Reasonably enough, he has asked others to be kind to him.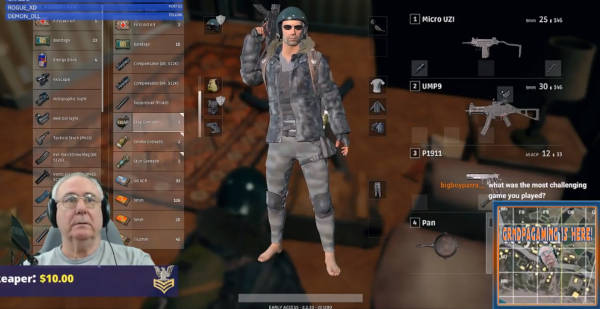 But Grandpa, despite all his handicap, does have his days. He excels in games like Armored Warfare, World of Warships, Witcher 3, Fallout 4, Battlefield 1,2,3 and 4, Doom, League of Legends, World of Tanks, The Division and Doom. Recently, he showed his skills on Apex Legends as well, a battle Royale free game produced by Respawn Entertainment.
Recently, Grandpa made headlines according to ComicBook.com when he went into a killing spree and trash-talking all the opponents. He was in a difficult situation – his teammates had died and he was outnumbered – 2 to 1. Well, Grandpa just went for a Triple Take no scope mastery.
Grandpa has proved that he is not someone who will take hits from others. Who knows why someone would be rude to him? He's just great!