Fashion will fade eventually when the seasons change, but the style remains eternal. The fashion industry sadly holds onto certain preconceived notions regarding age and it's about time that these stereotypes are shattered. A Russian modeling agency has decided to capture the process of aging in a brilliant photo series while mainstream Hollywood magazines are busy airbrushing images to set unrealistic standards.
Age is just a number but when it comes to fashion and beauty products, we seldom see anything natural on the billboards. The young faces are photoshopped to meet society's idea of beauty and the older ones are invisible. Is there an expiry date on beauty and women? If not, then why don't we find images of women aged like fine wine?
Oldushka, a modeling agency living up to its name, represents models from the ages between 45 and 85. It is created by photographer Igor Gavar and has received a phenomenal response in Russia. Sergey is the only male model who is 45 and all the others are older than him.
Representation in media is extremely crucial in molding the minds of teeming millions. Once people begin to accept their bodies with all its "flaws" – cellulite, rolls, uneven skin tone, hair, we will be a better society. Instead of scrutinizing a picture pixel by pixel, we should focus on how it makes us feel – if the image is at all us or is it something we want to portray on social media to fetch more likes. Age is a part and parcel of life and wrinkles just tell a story of a life well lived, so why is it so unattractive? Why can't more countries find beauty in small humane details? Is it really necessary to gloss over everything when all it does is give rise to insecurities? These are the questions we need to ask as a community.
The fashion industry is slowly but steadily getting more diverse in terms of size and ethnicity as people are voicing their opinions on social media. Earlier, only white skinned and skinny models would be the face of leading brands but the marketing world is also undergoing positive changes. There are alarming cases of self-harm and mental illnesses which have been triggered by unrealistic beauty standards so Oldushka is just a small step. We have miles to go in this journey of embracing our true selves for a better tomorrow.
The female models flaunt their platinum white hair with ravishing red lips and do not care about the crow's feet. They rock the stilettos, short dresses, smokey eyes, and denim-on-denim – fashion is really about how well you carry yourself.
The photos reflect poise and class in the most beautiful way. Each model exudes confidence with their piercing glances and it is so real that it reaches you.
1. Tatjana Nekliudova, 61 Years Old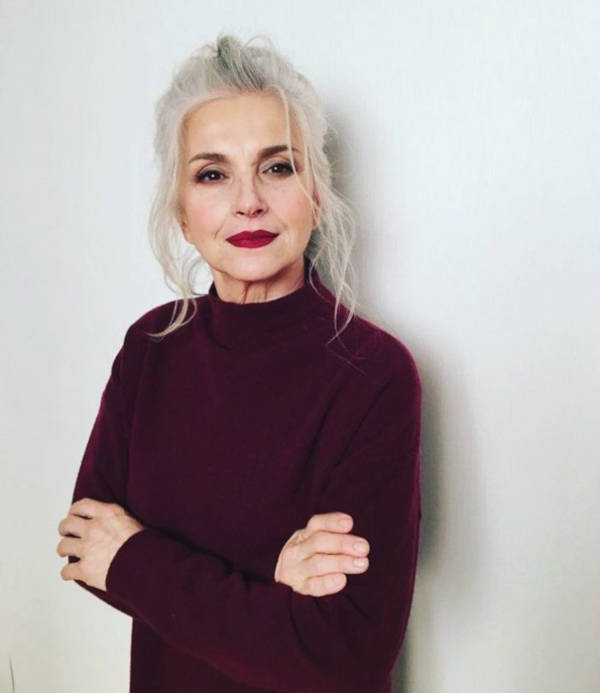 Flaunting her platinum white hair with ravishing red lips is Tatjana Nekliudova, 61.
2. Tatjana Nekliudova, 61 Years Old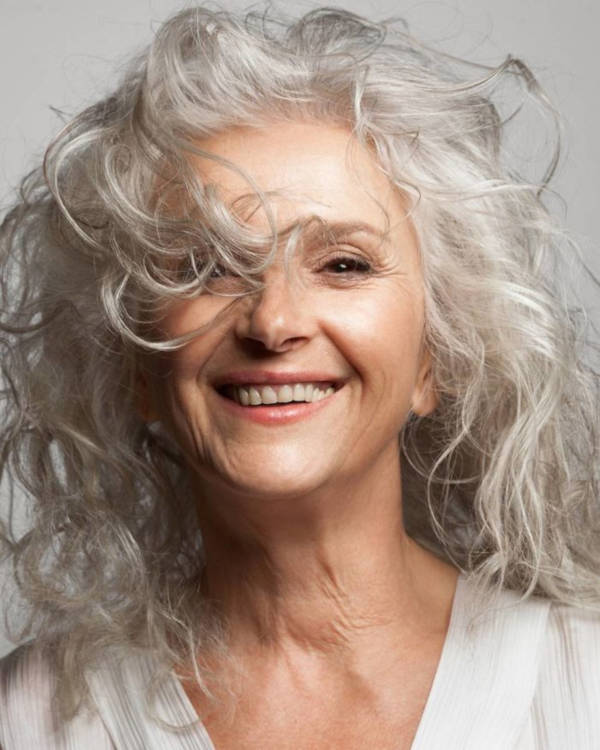 Tatjana's white locks lend a natural glow to her laughing face!
3. Irina Belisheva, 70 Years Old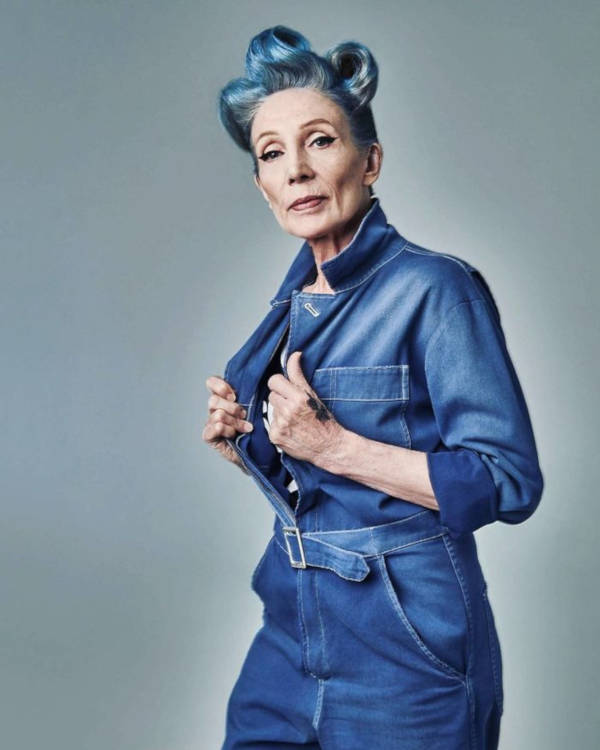 Icy blue locks and a cool denim jumpsuit – Belisheva's (70 years old) bold look is making us go crazy!
4. Valentina Yasen, 62 Years Old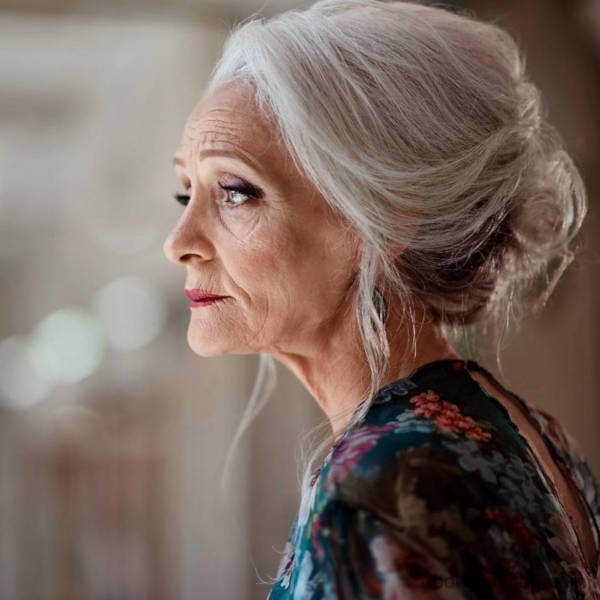 Elegance never goes out of style and this image is a case in point.
5. Sergey Arctica (45 Years Old) And Valentina Yasen (62 Years Old)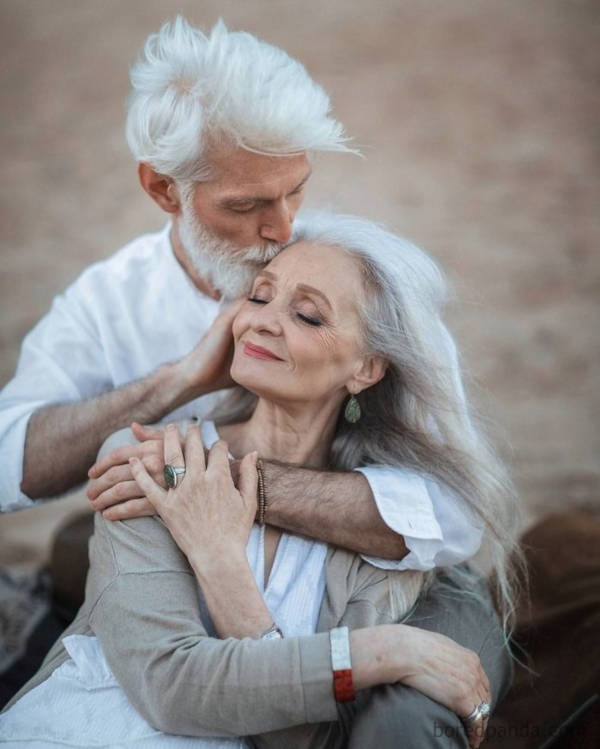 This picture featuring Sergey Arctica And Valentina Yasen is all kinds of adorable as the models look genuinely happy.
6. Tatjana Nekliudova, 61 Years Old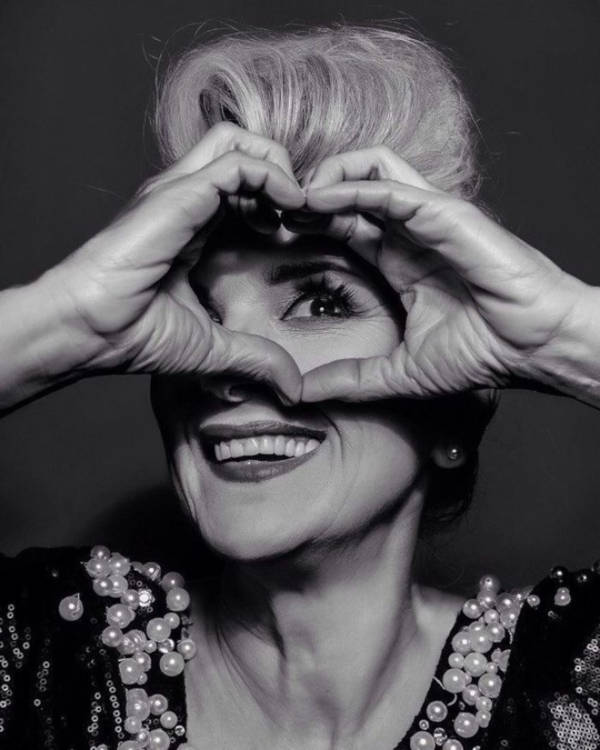 Tatjana again! Eyes are the window to the soul? We agree!
7. Victor Sosnovtsev, 73 Years Old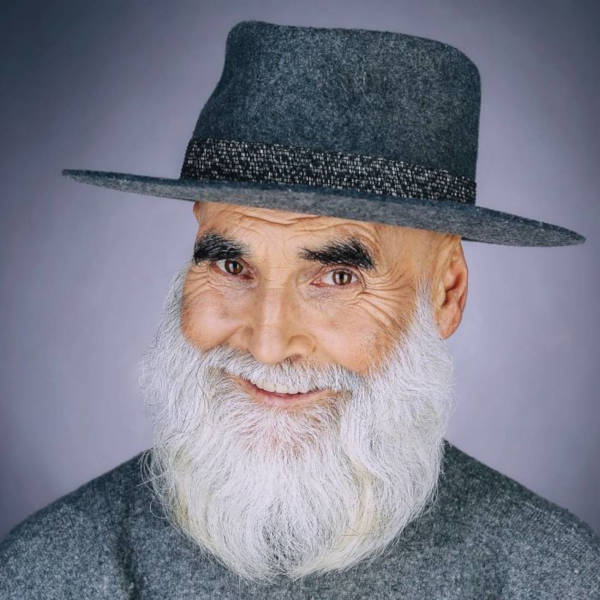 Who said hats are passé? Look at Victor Sosnovtsev rocking the classic black hat!
8. Sergey Arctica, 45 Years Old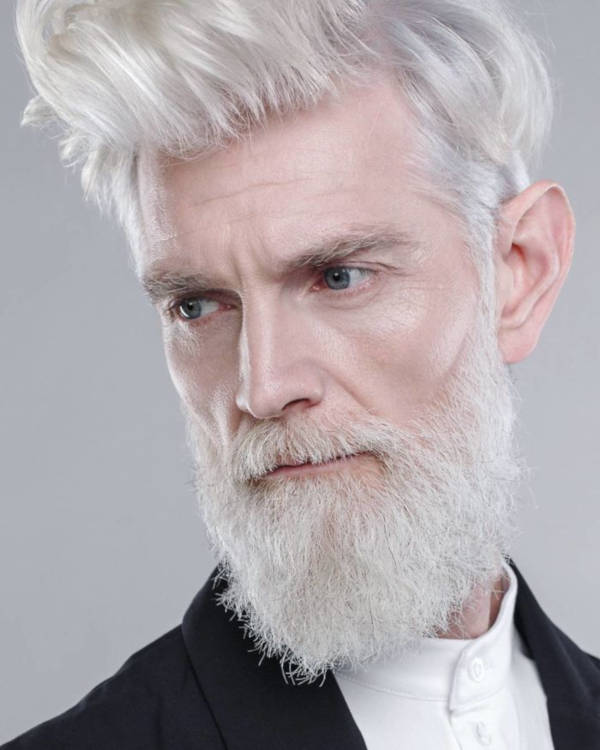 Next time you think dying your hair once it greys is important, take a close look at this gorgeous picture of Sergey Arctica.
9. Tatjana Nekliudova, 61 Years Old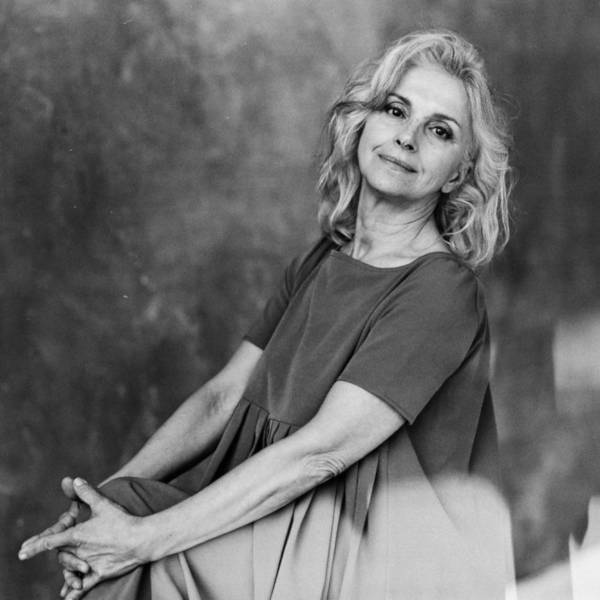 Tatjana's smile is so enchanting that we are in awe!
10. Valentina Yasen, 62 Years Old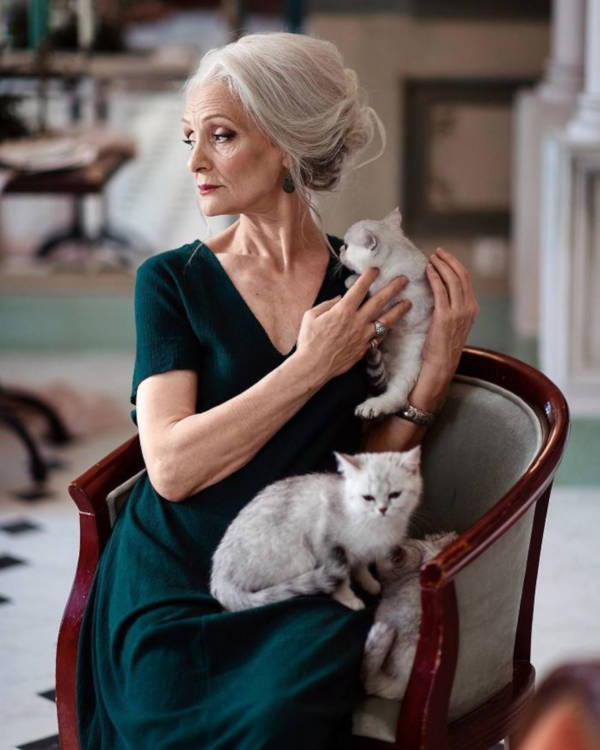 When someone calls you a crazy cat lady, show them this beautiful shot of Valentina Yasen and it is bound to melt their hearts.
11. Tatjana Nekliudova, 61 Years Old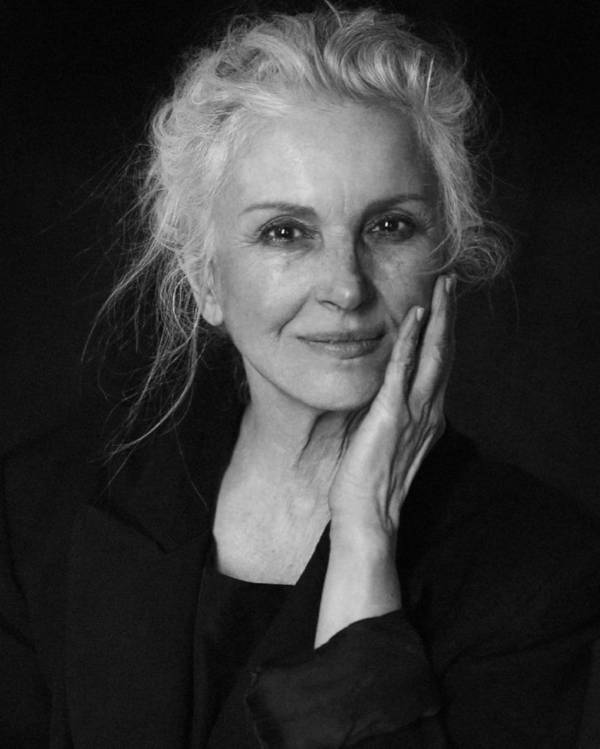 No jewelry is also a statement! Confidence is Tatjana's favorite accessory.
12. Olga Kondrasheva, 72 Years Old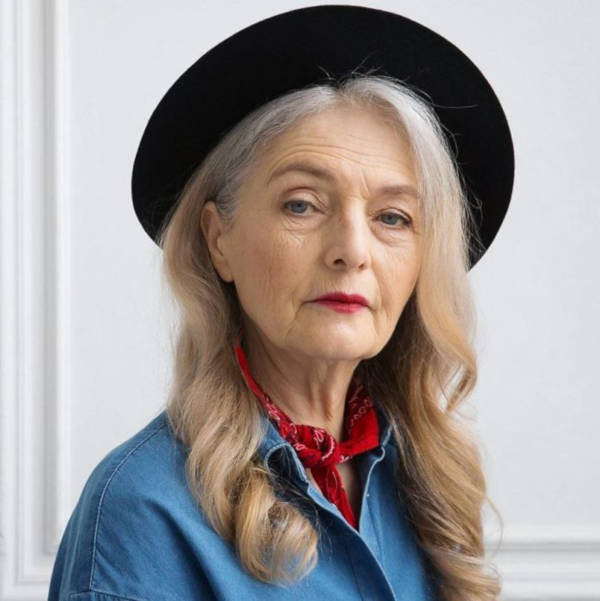 Cowgirl vibes on point with the denim shirt, red scarf, and the black hat! Olga Kondrasheva, 72 is totally rocking it
13. Nina Ivanovna, 75 Years Old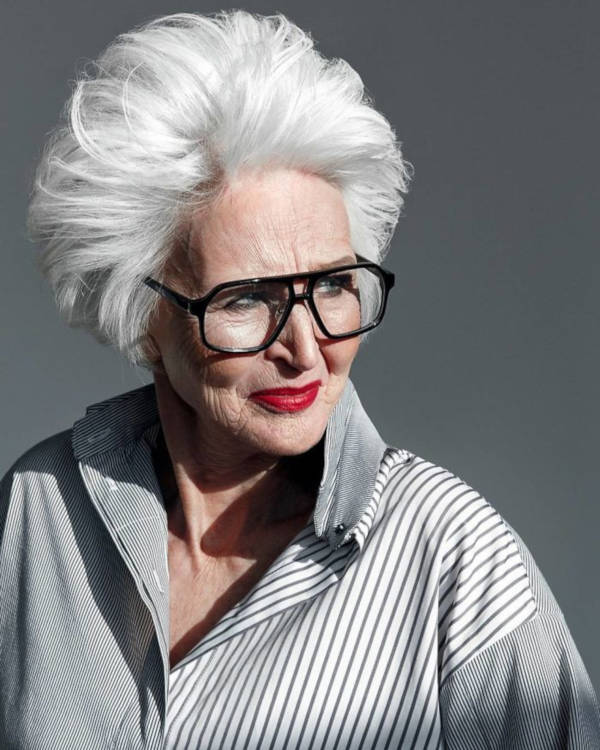 Nina Ivanovna, 75 looks so powerful with these boxy nerd glasses and bright red lips. Also, her cropped hair is everything!
14. Tatjana Nekliudova, 61 Years Old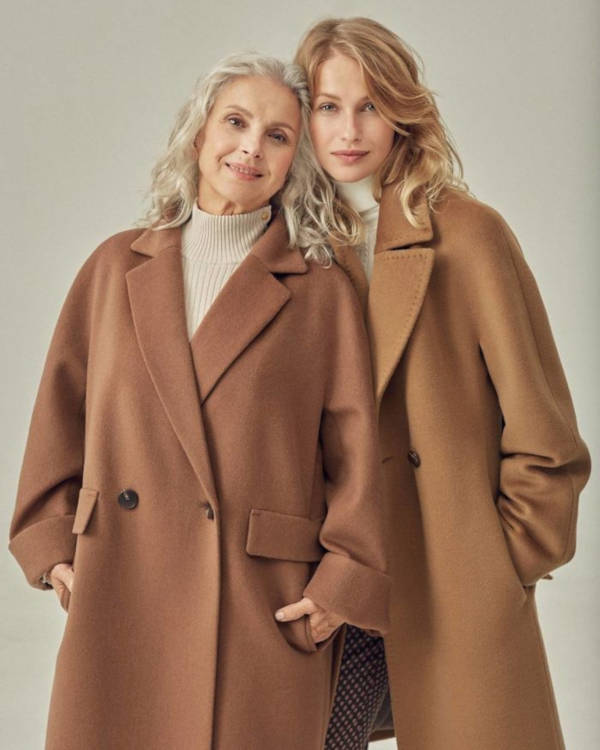 Classics are always in vogue and this picture with Tatjana and a younger model tells us why we should invest in them.
15. Valentina Yasen, 62 Years Old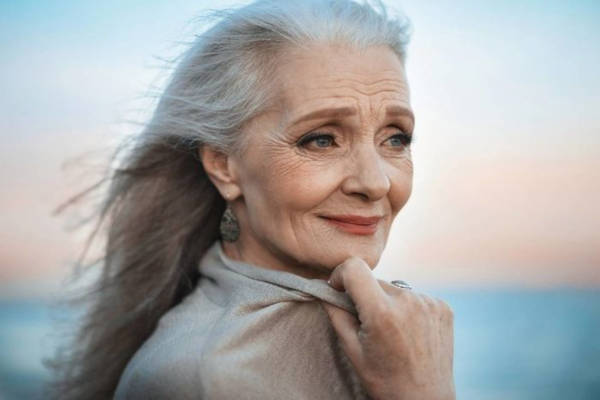 Valentina's precious smile comes with the wisdom of age and is unparalleled.