LEGO says "Everything Is NOT Awesome". Greenpeace is stepping up its campaign to get Lego to end its licensing partnership with Shell to make toys carrying the oil giant's logo, releasing a video parody of The Lego Movie song Everything is Awesome. 
Sara Ayech is an Arctic Campaigner at Greenpeace UK and writes:"The film depicts an Arctic made entirely of LEGO and imagines an oil spill in this beautiful and pristine part of the world. In real life, Shell plans to drill in the Arctic with the very real risk of a huge oil spill that would destroy this unique ecosystem.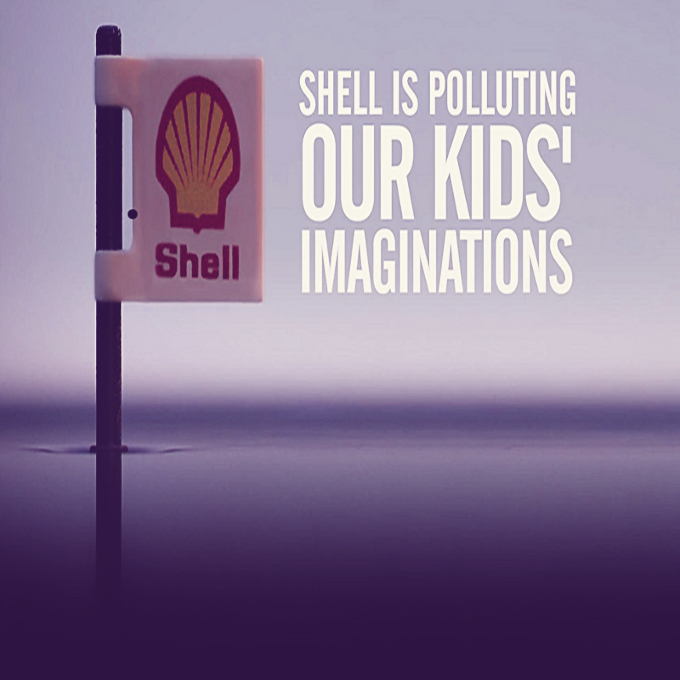 We worked with award-winning creative agency, Don't Panic to create the film. It features cameo characters from the LEGO Movie, Game of Thrones, and every child's favourite, Santa Claus. We hope the film is shared far and wide and serves to pressure LEGO into re-thinking their relationship with Shell.
Every company has a responsibility to choose its partners and suppliers ethically. LEGO says it wants to leave a better world for children and has a progressive environmental policy. But it's partnered with Shell, one of the biggest polluters on the planet, now threatening the Arctic. That's a terrible decision and its bad news for kids. We're calling on LEGO to stand up for the Arctic — and for children — by ditching Shell for good."
Let's remember again, what is Shell and what does around the world. According to John Donovan, royal Dutch Shell maybe it's the most evil company in the planet. Here are the cases that Shell is being involved:
*CORPORATE TERRORISM AGAINST A FORMER SHELL EMPLOYEE
*ROYAL DUTCH SHELL NAZI SECRETS EXPOSED
*INSPECTOR GENERAL REPORT: GALE NORTON, SHELL SCANDAL
*Shell employee guinea pigs in study of carcinogenic properties
*1000?s of Shell workers asked to reapply for their own jobs
*SEX, DRUGS & CORRUPTION IN USA SPONSORED BY SHELL
*ROYAL DUTCH SHELL NIGERIAN CORRUPTION SCANDAL
*WIKILEAKS: SHELL EMBEDDED SPIES IN NIGERIAN GOV
*Shell embedded spies in governments of Nigeria, Dubai and Iraq
*PDF ORIGINAL ARTICLE SHELL EMBEDDED SPIES IN NIGERIA
*SHELL SETTLES CLAIM FOR MURDER & TORTURE IN NIGERIA
*SHELL COMPLICITY IN NIGERIAN MURDER OF CIVILIANS
*UNLOVEABLE SHELL, THE GODDESS OF OIL (NIGERIA +)
*CLEAN-UP FOR NIGER DELTA AND SHELL'S REPUTATION
*Shell fueled Nigerian violence by paying rival militant gangs
*SHELL CHIEF HAD A PRIVATE ARMY (IN NIGERIA)
*SHELL PAYS $10 MILLION CORRUPTION FINE TO NIGERIANS
*SHELL ACCEPTS LIABILITY FOR TWO OIL SPILLS IN NIGERIA
*NIGER DELTA CRISIS THREATENED SHELL'S GLOBAL BRAND
*SHELL GLOBAL SPYING ON ITS OWN EMPLOYEES
*DEATH THREATS AGAINST SHELL WHISTLEBLOWERS?
*Irish Police investigate death threats to Shell whistleblowers
*SHELL "TOUCH F*** ALL" OIL RIG SAFETY CULTURE
*PAYBACK TIME FOR CORPORATE VILLAINS?
*SHELL HIDES ITS TRADING WITH FANATICAL IRANIAN REGIME
*SHELL HID TRADING IN IRAQ OIL IN VIOLATION OF EMBARGO
*SHELL IN BED WITH GADDAFI, STATE SPONSOR OF TERRORISM
*SHELL INVOLVEMENT IN AL-YAMAMAH OIL FOR ARMS SCANDAL
*ROYAL DUTCH SHELL WORLDS LARGEST "SPECULATOR"
*Shell accused of supporting Syrian regime
*Whistleblower accuses Shell of psychological torture
*Blood for oil? (The invasion of Iraq)
*Why is Shell still present and operating in Syria?
*SHELL EVEN DEFRAUDED ITS OWN SHAREHOLDERS
*IRREGULARITIES IN A SHELL TENDER PROCESS
SHELL IN NIGERIA
Shell's horrendous track record in Nigeria includes embedding spies in the Nigerian government; paying rival militant gangs; engaging in corruption (not only in Nigeria); arming police spies; undercover activity using a private spy firm (Hakluyt) and associating Shell with murder and human rights abuses. Consequently questions inevitably arise about the background of the militants responsible for the attacks referred to in this article. Has Shell any financial connection with them currently, or in the past? Shell has such a shameful record in Nigeria, including plunder and pollution on an epic scale, that it has even considered ditching the Shell global brand name. Such a radical move would also distance the company from its Nazi past.
Royal Dutch Shell GUILTY of Mass Murder.
How Shell infiltrated Nigeria
Controversy over Shell Corrib Gas Project in Ireland
Source: Greenpeace,Royaldutchshell