Keanu Reeves is a cool dude, we all agree to that. With his movies like John Wick, he has become all the more loved. But what isn't exactly common news is that he is profound. He has come a long way from his Bill and Ted's Adventures, and that was visible in the recent Stephen Colbert interview.
To promote his latest movie John Wick 3, Reeves has been on a tour of most late-night shows, and recently, he found himself facing Stephen Colbert who asked him, "So, Keanu Reeves, what happens when we die?"
Keanu Reeves' incredibly sincere, profound answer to Colbert's question about what happens when we die is why he must be protected at all costs. pic.twitter.com/iB6nwUqDQJ

— Nick Naranjo (@nicknaranjo1) May 11, 2019
Now, most of us would have expected a hilarious answer, or something ironic, or maybe a flustered celebrity. But Keanu's answer was this – "I know that the ones who love us will miss us."
Have you heard anything this profound today?
This man is a beautiful human being, with his acts of charity, and his struggle to maintain a positive approach towards life despite multiple adversities.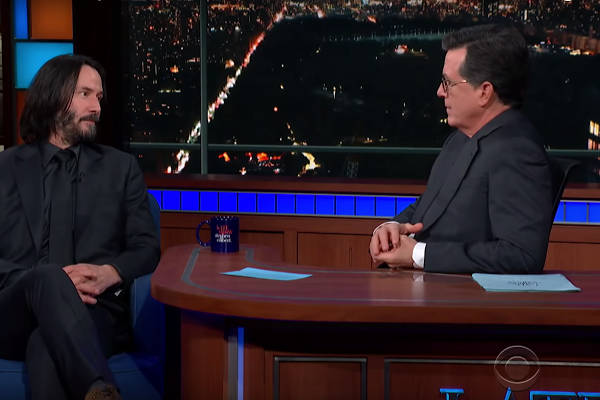 With his response, the entire audience 'aww'-ed him, with Colbert himself rendered speechless. And as the episode was telecast, the Twitterverse burst into praises for the Hollywood celebrity, who has gained a reputation of a saint.
A user called him the Eighth Wonder who joined atheists and theists together. Another user even jokingly said that he was the ideal person to lift the Mjolnir.
His answer should satisfy those profoundly religious, and #atheists alike. In fact, he might have just reunited the two sides. #KeanuReeves is the Eighth Wonder of the World. Hehe

— Isabella Bodnar (@IsabellaBodnar) May 13, 2019
Keanu Reeves could easily pick up Mjolnir.

— LA (@lancelotaustin) May 12, 2019
This diplomatic answer would surely bring many narcissists who think 'What will happen when I die?' to a subtle reminder of the people left behind.
And with his views on human mortality, along with the truth about death, he would gain more followers.
Personally, I don't think it matters to him anyway.