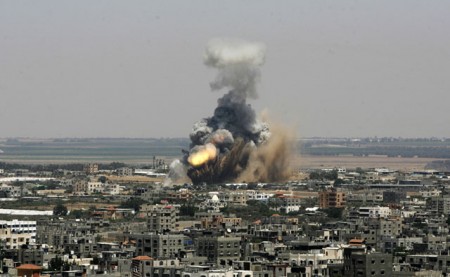 GAZA/JERUSALEM, July 8(Rt) – Israel strikes sites in Gaza Strip.The Israeli military launched an offensive against the Hamas-ruled Gaza Strip on Tuesday, hitting nearly 100 sites.
At least ten locals, including two children, were killed in the air and sea attacks, Palestinian officials said. One strike hit the home of a Hamas leader in the southern town of Khan Younis, killing six people. The attacks come as tensions have soared over the murder of three Israeli teenagers and the apparent revenge killing of a Palestinian teenager by Jewish suspects.
<span class="st">http://www.youtube.com/watch?v=YtFCXBetxcI
GAZA/JERUSALEM, July 9 (Reuters) – At least 23 people were killed across Gaza, Palestinian officials said on Wednesday, by a bombardment Israel said may be just the start of a lengthy offensive against Islamist militants whose rockets struck deeper than ever before into Israel.
Israelis ran for cover late on Tuesday as air-raid sirens sounded in the business capital Tel Aviv and the holy city of Jerusalem, both of which were hit in the Gaza war of November 2012.
Hamas said it also fired a rocket at the major northern city of Haifa, 140 km (88 miles) away, and though this was not confirmed, Israel said a rocket had landed in Hadera, 100 km (60 miles) from Gaza, further than had previously been reached.
While the Israelis reported no casualties, the long-range salvo was celebrated by the outgunned Palestinians as proof of their resolve in hostilities that flared three weeks ago after the abduction and murder of three Jewish seminary students.
The rocket strikes could lead to an Israeli ground invasion, something officials have said is a possible option.
In the densely populated Gaza Strip, explosions echoed day and night, shaking buildings and sending up plumes of smoke. At least 17 civilians, including five children, were among the 23 dead, Palestinian officials said. On the Israeli side, at least two people were wounded, medics said.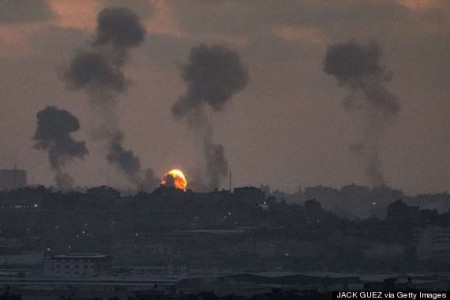 Source : RT , Huffington Post , The Reuters