Who doesn't like traveling abroad? But in our excitement of exploring new places, we often forget to research a bit on their traditions and customs. The result- we might end up hurting the sentiments of our generous hosts.
Here are 18 things that you should never do while traveling to these countries: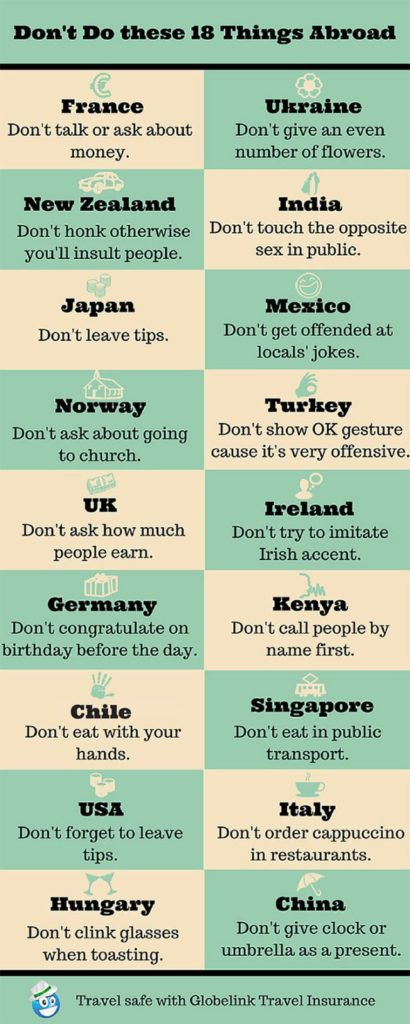 Reasons not to Do It:
France
Talking about money is considered rude and downright offensive.
Ukraine
If you are giving someone flowers make sure they are odd in number. Even flowers are presented at cemeteries.
New Zealand
For New Zealanders, honking is a sign that you disagree with the driver's method and not a plea to move aside. Honk with caution unless you want to pick a fight.
India
Any Personal display of affection, like kissing or hand-holding is to be strictly kept off from the public view.
Japan
Don't try to tip at any of Japan's eating establishments.
Mexico
Be prepared for their appetite for humor and don't take offense at the locals' jokes.
Norway
Going to the Church is not usually there and therefore must not ask them.
Ireland
Don't comment on their accent, for them, the accent is for every other region and not them.
Germany
If you wish someone a Happy Birthday in advance, you are jeopardizing their chances to live to see the day.
Chile
The locals are very particular about manners.
Singapore
Don't trash the streets in any way. Not even feeding strays and birds.
USA
In stark contrast to Japan, the Americans are very particular about tipping the staff and even have set rules on what percentage to tip depending on the service you have used.
Hungary
No cheers for beers. That is because they would rather not clink their glasses or bottles while sharing drinks.
China
Never give a clock or umbrella as presents, they signify bad luck.
Italy
While in a restaurant for a meal, avoid ordering a cappuccino, as they prefer to have it with their breakfast.
Turkey
The universal gesture for Okay is rude here.
UK
Asking someone about their salary is bad manners.
Kenya
Don't address a person by their name unless they initiate it.
Inspired by: Globelink