Siddappa G Hullajogi, a farmer who never went to school, uses a self-designed and self-installed water mill to generate electricity that lights up his modest dwelling in Somapura village in Gadag district of Karnataka. The indigenous power-plant provides 150 watts to run his TV, radio, lights, and other smaller appliances. He had also conceptualized and installed a windmill that provided lesser power earlier.
Using timbers, Siddappa prepared a giant wheel that joined at a central hub. There are eight arms, five feet each, extending from the central hub. A plastic bucket is dangled at the tip of each arm. When the water from two pipes gushes into one of the buckets, it generates the pressure that turns the 10-feet wheel in an anti-clockwise motion. The bucket could also be spun in the horizontal plane using a central steering wheel, similar to a teacup ride. As one after another bucket is driven by the flowing water, the first arm declines back to the ground while the other rises in the air. This process spins the black wheel attached to this giant wheel. The spinning black wheel rotates another wheel connected to a dynamo.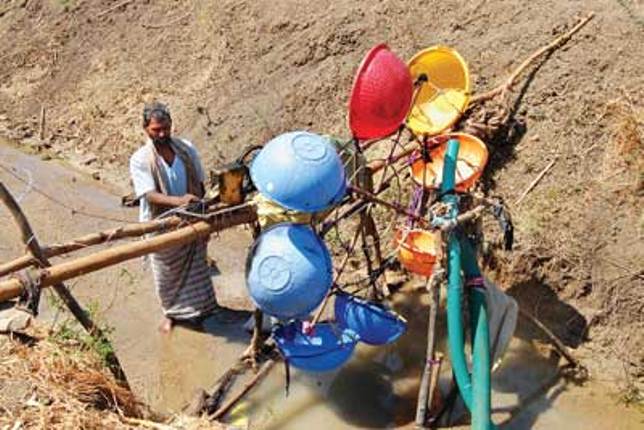 A converter converts the Direct Current from the dynamo into Alternating Current. Siddappa claims to have spent a mere Rs 5000 on building the entire apparatus. This is his second attempt to show the villagers that anybody can produce electricity for self-consumption using the resources at hand. "Many people who have canals flowing near their villages don't know how to use that natural gift. I want to show them all practically that electricity problems can be solved by being creative. There is no need to beg to the government for everything," he says.
With a one-time investment of just Rs 5,000 Siddappa has eliminated the recurring cost of electricity bills and at the same time dependency on government authorities.
Siddappa may have only reinvented the (water) wheel, but he is driving a change here, by making himself self-sustainable, and working towards extending this to power the entire village, by creating a hydel power unit on a bigger canal through the village. Constructing low-cost sources of power would definitely help those living in the rural areas who do not have access to state-supplied electricity or is too expensive. Gram panchayats can and should promote these kind of implementations and stop looking at the higher authorities and getting bogged down by red-tapism. If many such Somapuras and many other Siddappas start doing these kinds of innovations, we may be able to solve the power problem much sooner.
Here is a video where Siddappa describes his contraptions, courtesy of Colors Magazine. It is in Kannada but has English subtitles.
Source:The Open-Mind