Famous for its rich culture and heritage, Scotland is also known worldwide for its Tribal Drum and Pipes band called as Clanadonia. This band is mostly renowned for its amalgamation of the Celtic past of Scotland with the modern form of music.
Furthermore, the way its members dress, and the use of instruments makes the above-mentioned amalgamation ever-present. The Celtic tradition of Scotland is eminently known and studied worldwide by the scholars. It is noteworthy that this mixture of this ancient Celtic mythical form of art with the modern form of art by these Scots in the field of music is approaching a wide range of public, interestingly, not only Scots but the whole world.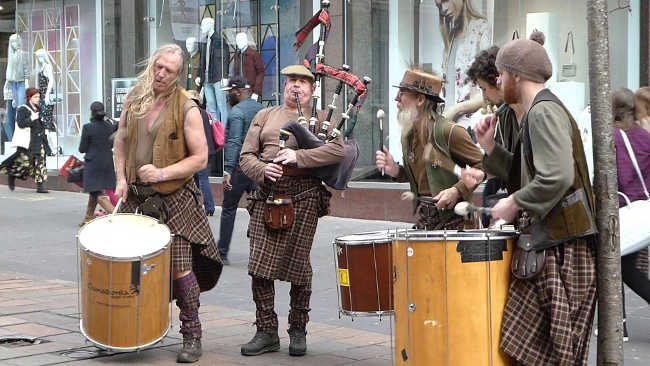 At present, the band comprises of five members, namely- Dougie Wilkinson playing bagpipes, tin whistle, and for vocals; Jamie Stewart with Congas; Davy Carney with bass drum and vocals; Alan Lamb with lead drums, snare drum and percussion; and the last one is Martin Brandon with his tenor drum and snare drum. One can notice the kind of musical instruments used in the band. All of them are rustic, unknown instruments mostly famous in regional areas of Scotland.
If we delve deep into the history of Clanadonia, we shall find that in past, the band basically indulged into the combat scene in the movie for stunt purposes. They did the stunt scenes for movies like Gladiator, King Arthur, Braveheart, and The New World. Now they operate as "the authentic tribal sound of Scotland". Presently, they entertain a vast range of audiences- from wedding to open street performance to any corporate events.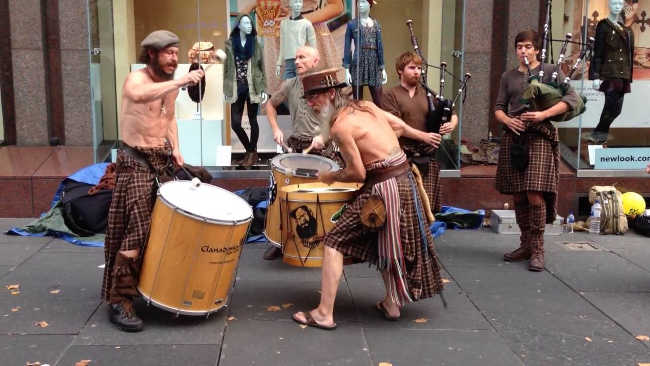 The members of the band want to spread the euphoria or the madness among the people in the world through the drum and bagpipe. With the motto in their head, their first album was released in 2007, titled as- "Keepin' It Tribal", and fortunately the album was welcomed warmly by the world.
The title of the album speaks for itself. The band does want to delve deep into their mythical tradition after all bands like Clanadonia keeps the long-lost culture of any region alive. No wonder, the band defines itself as ". . . a Drums and Pipes band with a difference. Our music, our passion, our culture, our history, our people and our ancestral bloodlines are all bonded within our music. . ."
Later on, after a decade in 2017, the band decided to release the sequel of their first album, titled as- "Keepin' It Tribal 2". This decision was the outcome of the huge demand from its fans from all over the world.
There is a wide range of videos related to Clanadonia for us to enjoy and know their performance on YouTube and other video channels. One must go through them if they want to know more about the band. So, now we know another example of fusion existing in the present keeping the past alive.
Watch Clanadonia perform in the videos below.