Death serves as a pertinent reminder of the fragility of life. Suicide, however is not quite as simplistic or as ¨natural¨. For a plethora of absurd reasons suicide remains a taboo internationally and perspectives differ subjectively.
For centuries Japan has remained the country with the highest and undisputed suicide rate, a likely result of the fact that its people have always considered suicide to be a means of taking responsibility. Thus, what developed as a Western taboo, is viewed on the contrary as an honourable act, both historically with the likes of Samurai seppuku and culturally.
The Aokigahara forest is, through media interpretation a place of international interest. Yet, despite receiving such widespread exposure, the sea of trees remains an eerie mystery. The forest lies eternally subdued at the base of the scenic Mt Fuji and has coverage over 35 square kilometers with dizzying density.
In popular Japanese mythology the forest is haunted by "yurei", in translation, the angry ghosts of the dead. For centuries and for reasons unknown to rangers and researchers the forest has a compelling association with high suicide rates (54 in 2010). As a result and an act of desperation a multitude of signs and notices have been erected to plead with suicidal visitors to seek help. The signs are strategically placed at the popular entrances to the forest and one can hope the plethora of propaganda has acted as a deterrent.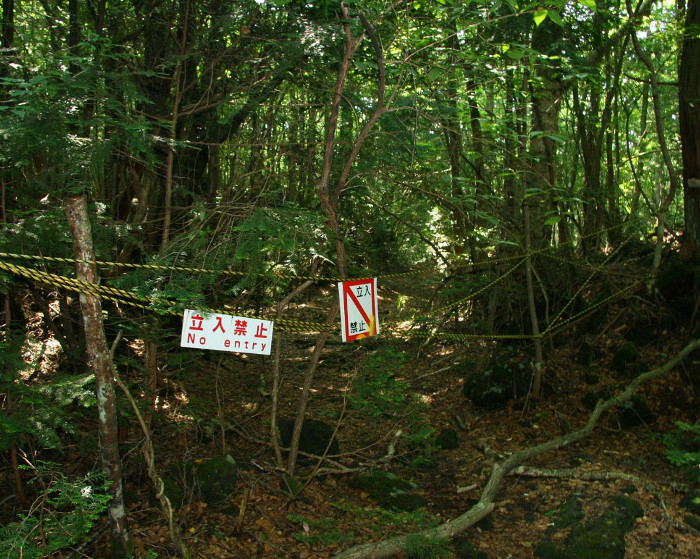 The forest is in the top three most popular places for suicide in the world (Wikipedia, 2015), and occasionally the annual statistics for "successful" suicide within the forest have exceeded triple figures.
One recurring finding is that a number of visitors each year camp for a number of days whilst contemplating their future. Colour coded ribbons guide the way round the forest for such campers and are left by officials as an aid to help the wandering navigate. Though admittedly, in the 2012 documentary by Vice the ribbons lead to harrowing sights, found only on the annual search by the party of volunteers.
The forest is perhaps still not as exposed as it should be but is slowly gaining recognition through the media. In recent years, horror movie, "The Forest", starring Natalie Dormer and "Sea of Trees" with Matthew Mcconaughey, among others have provoked the unaware public to an appropriate state of concern.
The density of the forest is often regarded as overwhelming and results in Aokigahara seeming devoid of sound. An annual approximation is 80 suicides per year and these are all discovered by the forest rangers, though obviously does not account for the significant number of corpses that must go unnoticed. As beautiful as this place is, the daunting threat of making a truly grim discovery is ever so slightly unsettling. With any luck the forest will see a decrease in the number of victims but for now the Japanese government should merely focus on destroying the belief that "honour" supposedly accompanies suicide.
By Sam Muir,Truth Inside Of You.