This Texas Art teacher has put love in what she does, and oodles of it. And the result is there to see in all its stunning glory. It went viral over Twitter for the way it inspired her students when she put on a dress that has all her students drawings printed on it. She has succeeded in awakening joy in creative expression and knowledge and she has demonstrated in her loving way that every child is an artist. She is a teacher who loves learning and thereby earns the right and the ability to help others learn.
my mom is the cutest art teacher ever!! She made a dress and had every one of her students draw one thing on the dress for her to wear. This was her at her student's art show tonight. IM SOBBING pic.twitter.com/6Q7L2mq5jQ

— Charlece Lake (@charlece_lake) March 23, 2019
The Colors Of Love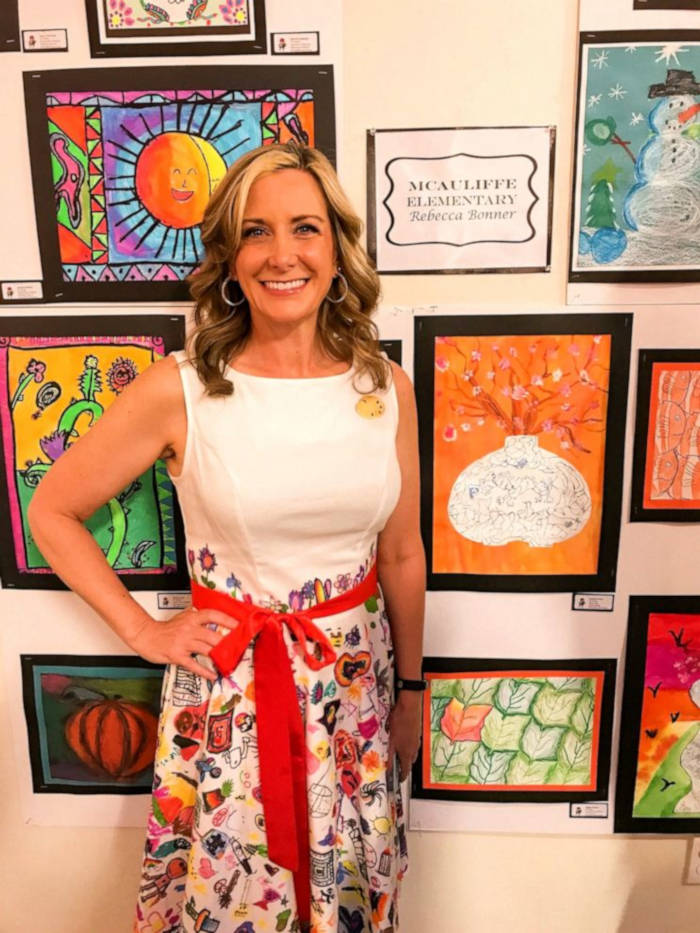 Appearing on Good Morning America, Rebecca said that she got fabric markers and permanent marker pens. She gave the students her dress and let them all work on it for 2 weeks. Her daughter posted a heart touching tweet of her mother wearing the dress. Rebecca teaches at McAuliffe Elementary School in Texas at Highland Village. She got her idea from fellow elementary teachers through her Face book group where they share ideas and strive to encourage and motivate each other.
Rebecca says that it was fun to get all her students, around 580 of them, super excited in art and involve them in a practical purpose of art. She says she enjoys wearing the dress printed with her students' doodles. And her students are excited to see their drawings on their teacher's dress.
A Labor Of Love That Went Viral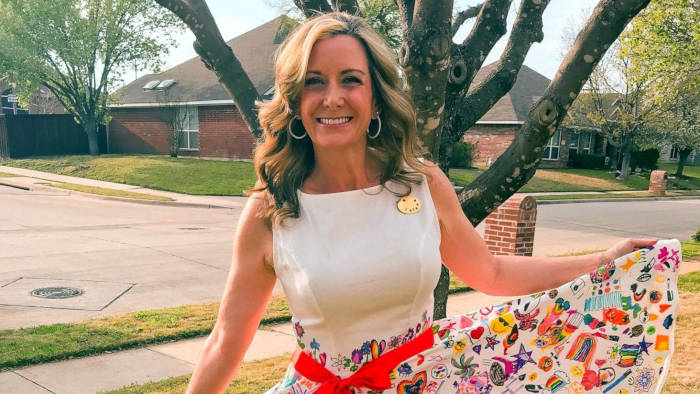 Bonner was pleasantly surprised when she discovered that the pictures of her wearing the dress had gone viral. Charlece Lake, her daughter had posted them. She is not particular about being famous but is extremely happy that her project has helped popularize elementary art. She is glad that the project has helped her kids find a channel for their creativity. Her cute motto is "turn your mess up into a dress-up."
Her daughter says that her mother is extremely passionate about her job and wants to show the importance of teaching and also the importance of elementary art among students. She is surprised that this cute photo of her mother which she had posted has become so popular. By boosting the confidence of her students through art, Rebecca has also inspired her daughter, Charlece to become a teacher shortly and now she is pursuing a teaching degree. She has been successful in inspiring her students to look beyond their mistakes to create something beautiful and enduring.
Learning is fundamental. We would be lost without all the great teachers who spent time helping us learn about ourselves and the world. Every child deserves an inspiring champion- a loving teacher who never gives up on them, who realizes the power of connection and strives to make them the best that they can possibly be.
Facebook Notice for EU! You need to login to view and post FB Comments!