Once in a while, the Earth decides to mesmerize us with things as rare as this. Making us re-evaluate our choices as we keep destroying such a wonderful planet. Recently, a survey showed that white giraffes might go extinct thanks to the illegal usage of body parts in rugs and pillows; the main demand is in the US.
And at that same moment, extremely rare and completely white giraffes have finally been photographed for the first time in a conservancy in Kenya, Africa.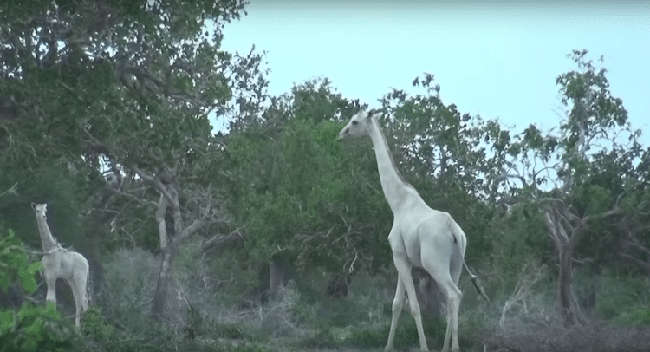 Rumors about sightings of said animals were floating about for some time now in the Ishaqbini Hirola conservancy. However, it wouldn't be the case for a few months or so. And it is not just one animal that has been photographed as you can see, but two: a child and its mother.
Giraffes, like leopards and zebras and to some extent hyenas, and other striped/spotted animals, have a very characteristic pattern that distinguishes them from a series of animals.
Even when there are variations in other animals' body colorings and patterns, it is still impossible to mistake a giraffe for a zebra.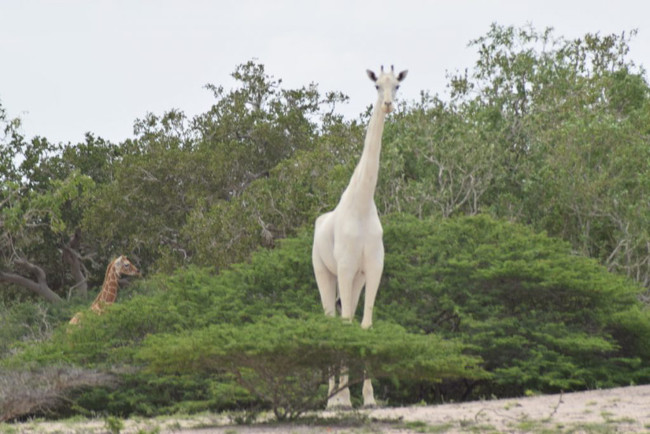 However, in this case, these giraffes are totally spotless white in appearance; this makes this sighting coming so late, all the more shocking. The reason is probably their shyness and docility.
They suffer from a condition called Leucism, a genetic disease. Unlike say vitiligo in humans, however, the condition prevents the production of all color in the animals, leaving them with a milky white coat.
However, like all differently colored animals, despite not facing any organ deformation or disadvantage, there is a larger risk for these animals. Normally colored giraffes are patterned to help them stay safe from lions and hyenas and other predators, at night, when those carnivores are most active and are likely to hunt.
These white ones are vulnerable as they are visible clearly against the green grasslands of Kenya.
Poaching is a big problem. And it is much bigger than predators hunting on them. So, the publicising of these animals' locations might be a big problem for the conservancy.
Let's hope they remain safe.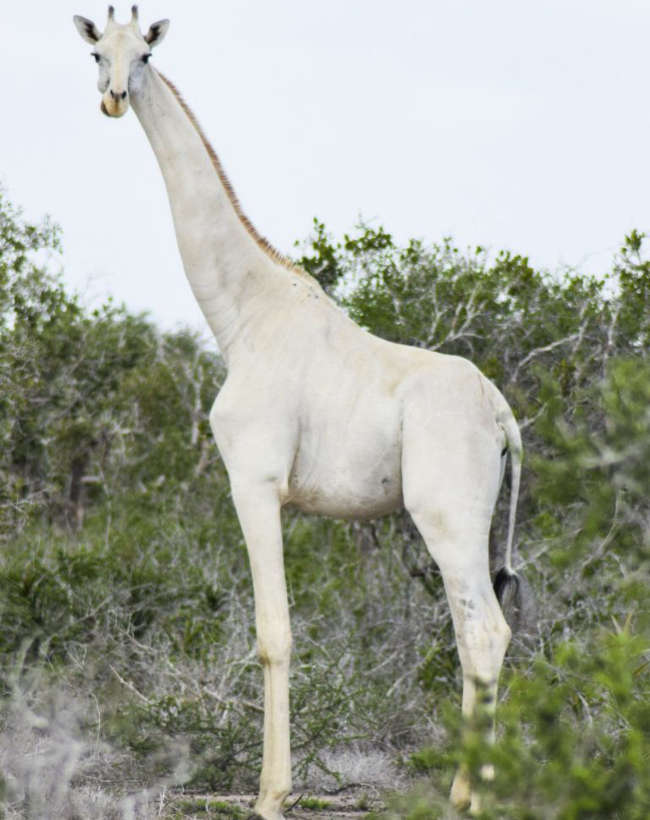 There had been reports of another animal being born in the Tarangire national park that was white in color. A national park can, however, provide the necessary protection measures to protect such endangered species from hunting. But that is beyond the scope of a conservancy's budget and ability.
And neither has Ishaqbini made any pretenses about being able to provide the requisite security to the animals. So, it goes without saying that these animals are in danger, especially from poachers, who would jump at the first chance of killing them. Because of the simple fact that their hide or their heads might make costly trophies for collectors in developed nations like the US.