Feelings of love and affection are not exclusive to human beings. Animals too understand and are capable of expressing similar emotions among themselves. Love for their partners or babies is intriguingly similar to that of humans. Their expressions are not very different from human beings, except for their language. Animals are very much fond of the ones they love and are often seen snuggling, loving, and caressing them.
This article presents some incredibly cute photos of animals caring for their loved ones.
1. Not only humans love spooning.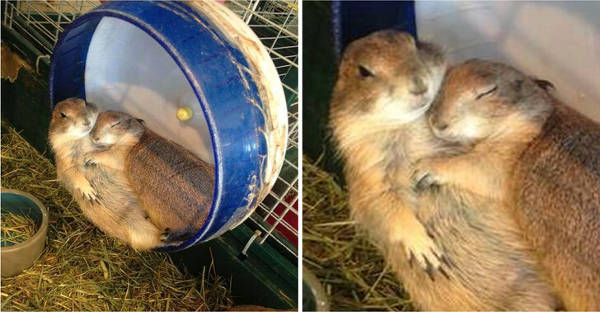 The first picture is that of two guinea pigs, lying down while hugging each other. One of them is probably trying to sleep in the arms of the other, feeling all the warmth and comfort that reminds us of the idea of how a family becomes the centre of all forms of love and affection.
2. Simba and Nala
View this post on Instagram
The next picture is that of a lioness, almost rubbing her face against her partner's, reflecting how love has no bounds of remaining restricted to just the capacity of a few. The feeling of belongingness and home is received best when we are present with our partners. Irrespective of the form, the expression remains universal for all.
3. Looks like Timon found a partner.
View this post on Instagram
The third picture is of two meerkats, hugging each other in the world's cutest way. Believe it or not, this little thing fills us with awe and admiration for the animal world, which no matter how wild and uncouth they may seem to be, are actually no less than humans when it comes to emotions.
4. A loving kitty family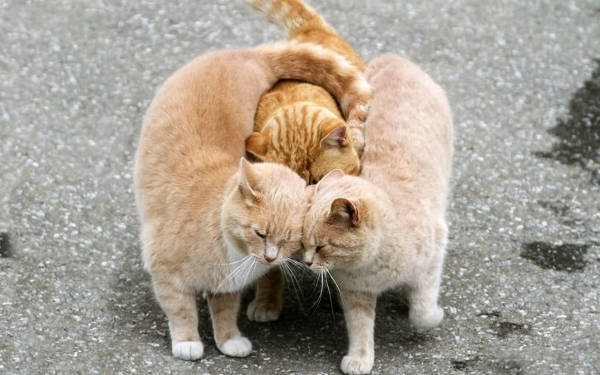 The fourth picture is that of a wholesome cat family. Could anything be better than our families and the precious time we spend together? The picture shows how three cats are legit cuddling each other in a way in which three of them rub their heads against each other, almost forming an inverted heart design while also grasping each other with their tails.
5. Panda bears are always cute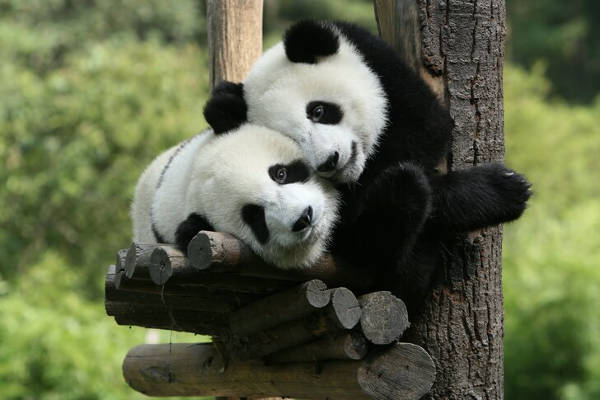 The fifth picture is of two panda partners who not only cling onto the tree but also each other. The affection between them is priceless and stands as proof of how beautiful and soothing the feeling of being in love is.
6. This monkey family is so sweet
The next picture is a beautiful snap of a family of monkeys. The picture includes an apparent father and mother monkey, sharing some private time with their child.
7. The chain of love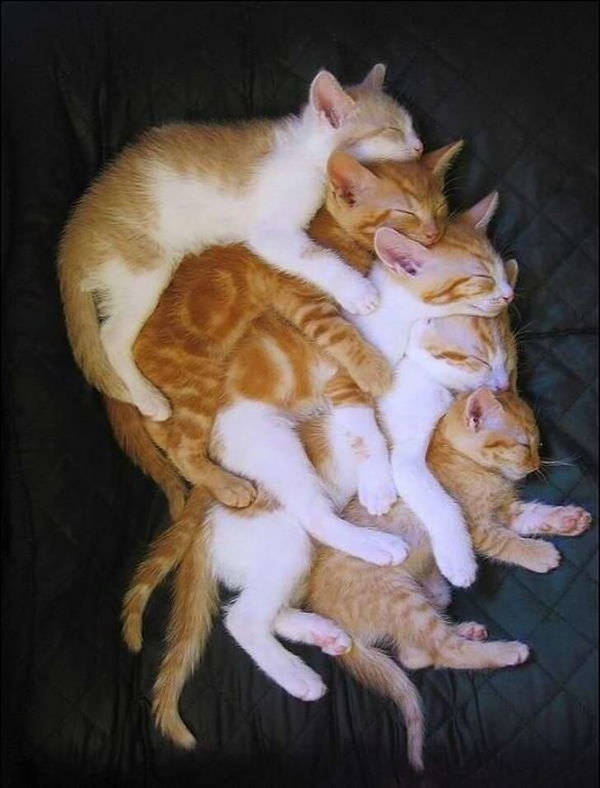 The given picture is that of five cats who are sleeping peacefully while holding one another. They have formed a chain like a shape where each cat clings onto the other and rest their heads peacefully, on top of each other.
8. A caring mother
View this post on Instagram
The picture of wallabies is yet another amazing picture where one of them is apparently kissing the head of the other. One amazing thing about these Australian residents is that the mothers can effectively restrict the growth of their embryos within the womb if the environment isn't favourable for them.
9. Frenemies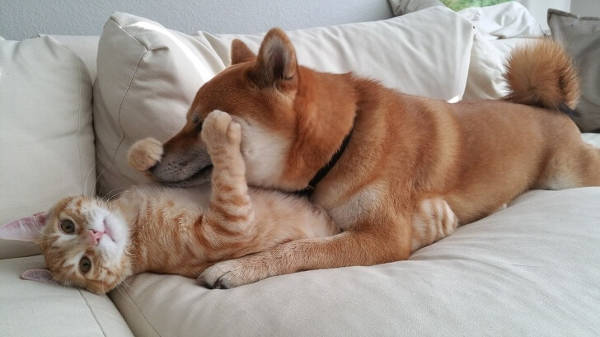 Another picture is that of a cat and a dog, lying together on a sofa while the dog rests its head on the cat's belly. Love doesn't need to be restricted by animals of the same species. Living together creates a kind of special bond of friendship irrespective of how different the animals are from each other.
10. Hold my hand and don't let go
View this post on Instagram
Love doesn't really care about the shape and size of the ones sharing and experiencing it. This is well demonstrated by the picture of two elephants that have entangled their trunks together as a sign of affection.
11. Happy feet family
View this post on Instagram
The picture of a family of penguins of Antarctica is yet another beauty to admire. The parent penguins seem to droop their heads to look at their babies while the two children bask in the protection and love of their parents.
12. Family is important
As mentioned earlier in the article, there is no real difference in the building up and maintenance of a family, even for animals. The picture of two tigers, almost kissing each other, is a testament to the given statement.
13. Kiss me
This picture is of two polar bears kissing each other amidst the cold snow. Warmth and comfort are all that one needs at the end of the day. The surrounding ice witnesses the warmth that is created between the two creatures, so much in love with each other.
14. Happy family
No child is ever supposed to feel the bliss of happiness and comfort other than in the presence of its parents. The picture shows how happy the baby actually is and is apparently laughing in between its parents.
15. Showing affection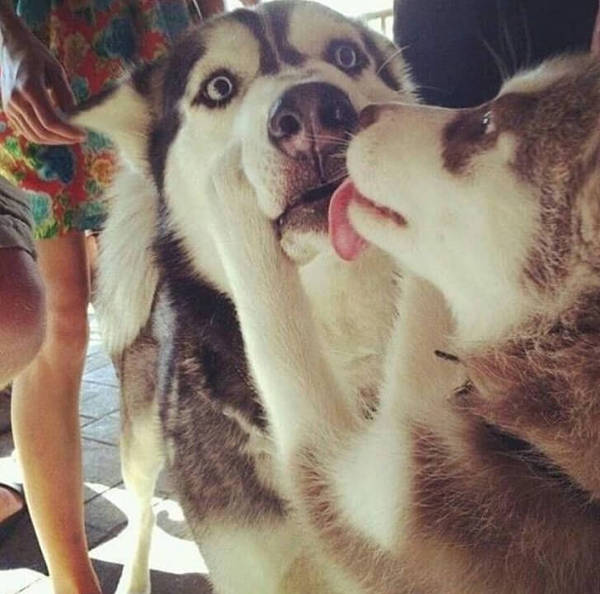 Even animals know to woo their partners in the best possible ways. The picture of a husky, licking the other and trying to show its affection shows how much they want their partner to realize that they love them.
16. We belong together
The picture of these two deer shows how one wants the other's presence and leaves no chances to portray its love and liking for the other.
17. The moment you realise you are in love
The image of a horse, pecking the other shows the way they want to express their emotions. This is done to make the other feel good and enjoy the happiness of belonging to one another.
18. Love doesn't know age
The picture of two baby foxes, playfully displaying their love shows how sensitive the animal world actually is.
19. Amore Mio
The next picture is that of a monkey which is clinging on to a different branch while trying to kiss its partner who is seated on yet another branch. This may be reflective of the fact that hurdles and distances should gain no priority when it's a matter of love.
20. Underwater love
Just not animals of the forests, even aquatic animals know how to admire and shower affections on each other to feel the comfort of one another. The picture of these two dolphins explains this remarkably.
21. Tender love affects even the strongest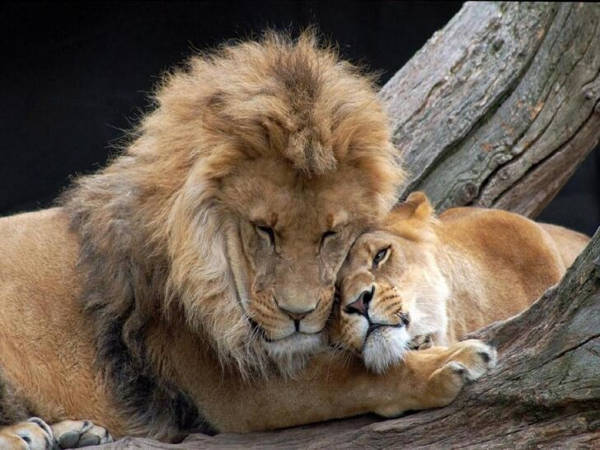 It nowhere means that if you are tender and soft and affectionate, you are weak. Courage is not depicted through violence exclusively. The picture of a lion, cuddling his mistress is proof that love exists without the display of physical strength.
22. Love is in the air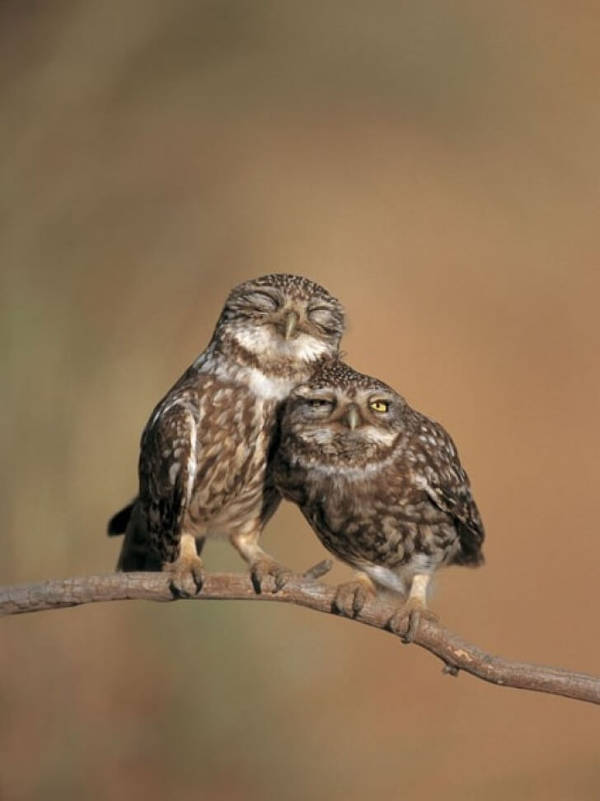 The soothing image of two owls shows us how love is the crux of loyalty, support, faith, and togetherness.
Love is something that teaches us to value the other person. It makes us realize the importance of the other individual while accepting their flaws and frailties. It is about the trust and faith that one develops with time and how this becomes a tool to support each other till the end of time. We should learn affection and admiration from the animal kingdom.