It is very easy to just give up, and lament the fact that the world conspired against you. Very simple, in fact, to let fate take its course, and surrender to it. But, that doesn't make you a lucky winner. You don't turn fate, you don't astound heads. You become one of the several billion people, who live a sedentary lifestyle, and at the end of time, have nothing to be proud of. Are you willing to be one such person? Or do you want to seek inspiration from somewhere, and make something out of this life?
The story inspires us. Will it inspire you?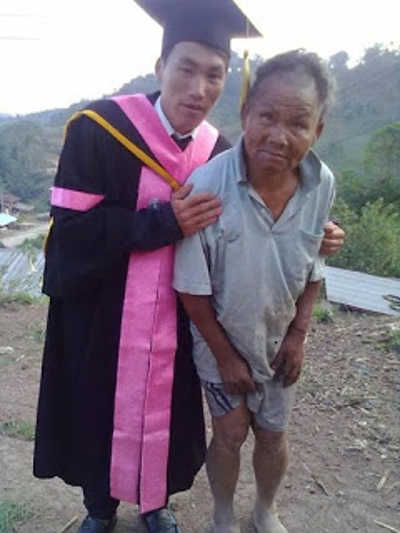 Recently, there was an outbreak of information regarding a poor farmer from Northern Thailand, who finally saw his child graduate with a doctorate in his field of study. Now, it is easy to think that he could have easily let go of it, and live a life of misery and poverty, forever cursing himself for not going the extra mile, for not working the extra hour. But, he didn't. He toiled hard enough, to put his child through school, college, and finally a university, to see him passing with flying colors.
But, this isn't exactly a wondrous piece of news now, is it? This isn't exactly a stroke of marvel, because newspapers report events such as this almost every month. Therein lies the typical human mentality, to only accept what is new, what is rare, and what is trendy. Something, that is used, can also be inspiring. So what if this news isn't rare? It still inspires, doesn't it? It still makes everyone ask themselves-have we worked enough? Have we done enough?
Raising a kid alone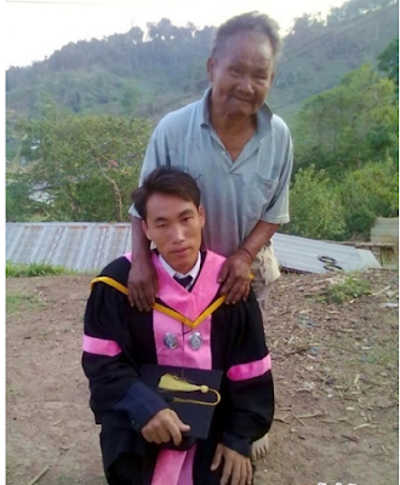 The poor farmer lost his wife at childbirth but never gave up. He could have cursed fate and brought up his son in a typical manner that of a farmer. But, he knew the importance of education. How education has the power to change one's life in a completely inconceivable way. He realized, that his sorry state of affairs, shouldn't stop his son from achieving what is in his stars. So, even while he was submerged in poverty, he still managed to put his child through education, knowing its value, and how it puts people on an equal footing, regardless of their caste, creed or gender.
This somehow shows the difference what inadequacy makes. A poor family, with no legacy, no earnings, would jump at the chance to achieve something, to be known as someone special, while a rich person would always have someone to look after them. But a poor, impoverished person knows, he only has himself to look for, and what better way to be prepared for those days of darkness and depression, for they come, than education?
A proud father
Looking at the father on his son's graduation ceremony can bring tears to one's eyes. The happiness, the pride, but also the innate struggle, the immense hardships that the farmer had to go through, shines through those aged eyes. One might think that this has been the norm for a while now, inspirational stories of poor people, but it needs to be understood that each has their own struggle, their own life, and generalizing all under one banner, could possibly be the biggest mistake one makes.
This is a story of victory over all odds, and all one can do reading it, is feeling inspired by the feats, and feel proud of humanity in itself, for it isn't every day, that we get to hear that, and even if we do, it is never the same. An individual struggle is never the same. No one can fathom the struggle of the father, and the son, and nor should one try too.