If you are a movie aficionado, then you probably know about the famous actor Kirk Douglas. This handsome man rose to fame in the Golden Age of Hollywood and became a legend in the film industry.
His performances in famous movies like Spartacus have captured people's hearts and made him a role model for aspiring actors. Even his son, Michael Douglas, followed his father's footsteps, and with the acting genes inherited from Kirk Douglas, made a name in Hollywood on his own. Both father and son became legends in the film industry.
But there is more to an actor than just the glamor, allure, and acting skills. They are human beings who have the capability to come forth during a humane calling.
Turns out, Kirk Douglas heard the calling and responded to it multiple times. He was known to be a philanthropist who did not mince his dollars when he was donating.
This February 5th, Kirk Douglas passed away and left a tremendous void in the hearts of his fans and the movie industry. He did live a long life of 103 but still, such tragic news of someone's death can never be taken without shedding a few drops of tears. But Kirk was not someone to leave the needy in a place of darkness even when he passes away. The philanthropist donated the major part of his 61 million dollars of fortune to reputable charities.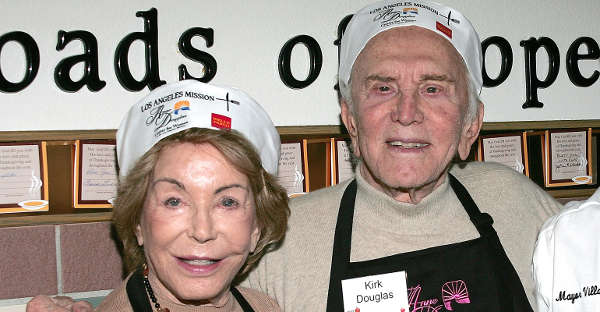 Michael Douglas, his own son, did not get any inheritance, and he doesn't mind. He is proud of his father and mentions how we should all aspire to become a humanitarian like him.
As per certain reports, the institutions that received the money are St. Lawrence University, which boosted the fund 'Kirk Douglas Scholarship' directed to underprivileged or poor students. Kirk Douglas, during the Great Depression of the 20s, grew up in poverty and knew very well how helpless the downtrodden might feel. St. Lawrence University is Kirk's alma mater and he has always been committed to helping this university develop, as per the president of the school.
Donations were also made to the Sinai Temple in Westwood, Kirk Douglas Theater in Culver City, and the Children's Hospital Los Angeles. The Children's Hospital was blessed with several bouts of donations from the legendary actor and had even received 2.3 million dollars to buy equipment for their pediatric department.
Kirk Douglas did not only take care of the poor and the downtrodden. He knew that there can be people suffering in all spectrums. He was getting old and like him, his colleagues and fellow entertainers were getting older too.
In the entertainment industry, the older you get, the less employable you become. You also start getting new diseases too. When Douglas was celebrating his 99th birthday, he donated away 15 million dollars to construct the Kirk Douglas Care Pavilion, which can take care of around 80 Alzheimer's patients, mostly from the entertainment industry.
Michael Douglas expressed his pride towards his father, Kirk, by repeating something he said to his father, during Kirk Douglas' last birthday – 'Dad- I love you so much and I am so proud to be your son.'