Fast food menu price created an infographic that you really shouldn't see, if you don't feel like knowing how bad a Big Mac can be. If you support the idea "Ignorance is bliss", then I suggest that you stop reading right now.
This infographic shows the effects of the consumption of the most classic junk food there is, over the period of one hour after the meal. It is explained roughly in ten minute periods. Here you go: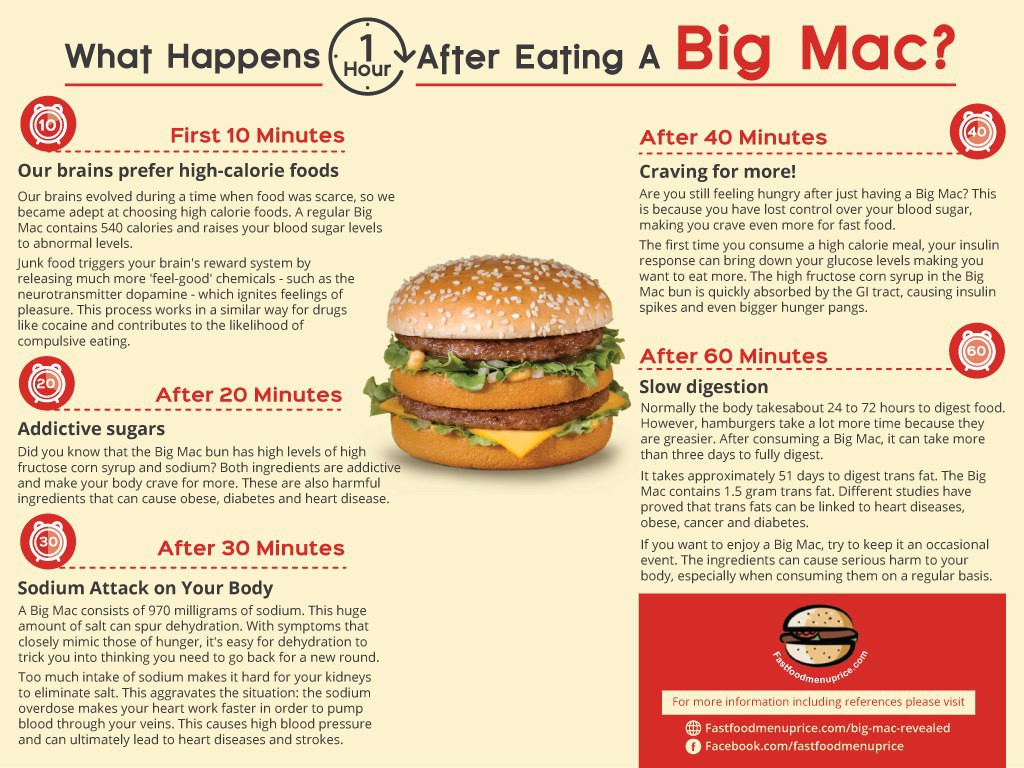 Is this infographic truly accurate? Let's see.
The explanation of blood sugar rising and calories is slightly vague, as calories are not immediately responsible for the rise of blood sugar. Calories are the cabrohydrates in the food and their effect on blood sugar depends on its type more than its quantity. It is however true that food like white bread, of which a Big Mac contains 3 slices, has a high GI (glycaemic index) and therefore causes blood sugar to rise quickly, as it is easily absorbed by the body.
It is also true that junk food has an immediate effect on the levels of dopamine in the brain – dopamine is the hormone associated with a feeling of happiness. But truth is that it is not only junk food that has this effect, but eating in general can do it. It is also a sad fact that very high consumption of junk food can actually harm the brain chemistry and stop alltogether this positive effect.
Finally, it is safe to say that a Big Mac won't kill you, but one should not eat it way too often. Next time you think about hitting the closest McDonalds, try eating a salad instead!
If you like that post, check why you should stop feeding your children hot dogs, here.
By Jonah Winter, Truth Inside Of You