There are a few things as exciting as a sky swing fair ride in life but getting on these rides takes serious courage and a good stomach. You never know what goes down at those heights. These rides may seem daunting but the adrenaline rush from them is something else.
That being said, if you feel too uncomfortable, then it is probably a good idea to sit that one out because I am about to tell you a story that might act as a warning story but will have you in splits nonetheless.
The following video has been filmed in Rotorua in New Zealand and it features a couple that is on a ride that involves a sixty-meter fall from the sky!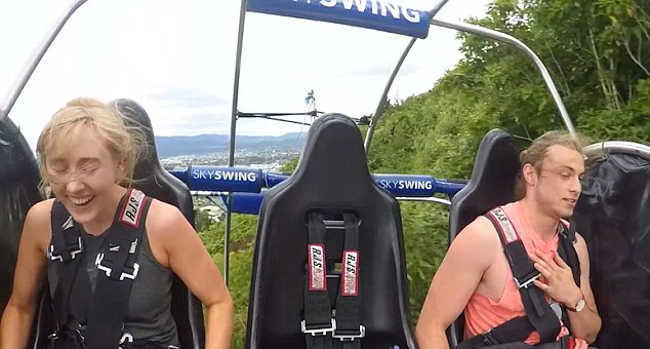 The couple has expressions worth looking at. While the woman is definitely scared, her face is under a shroud an excitement, the man looks positively unhappy and terrified, even though he is trying to be a gallant man. As they are both climbing up in one of the cars, the woman looks nervous but ready, whereas the man is just plain panicky. He looks as if he will cry out at any moment.
When they finally reach the top and the fall is about to happen, the woman screams but out of the adrenaline rush but the man is cursing and swearing because all he wants to do is get down and walk away.
There is something that makes this even more interesting- the passengers have to start their fall themselves, as they pull the cord when they are ready. The moment they do pull it, the couple exchange I love you and then fall! As they do, the woman is laughing and giggling but the man, completely panic-stricken by then, passes out and has his head bobbing in the direction the ride falling.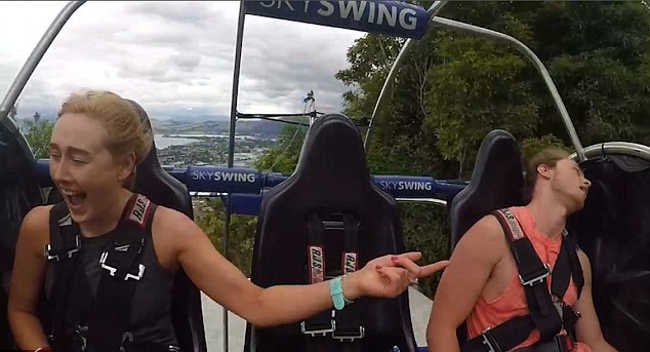 What is absolutely funny about this affair is the fact that the girlfriend pays no attention! She keeps laughing and cooing while her boyfriend is basically senseless.
It is not the nicest thing to do- but the footage does make you laugh.
After a while, the guy tries to come back to his senses as he realizes what is happening but as soon as he does, he passes out again at that exact moment.
Next time you go on a sky wing, do make sure that you are prepared for what is to come and even if you are not, make sure no one is recording!