The vulture is waiting for the girl to die to eat her. The photograph was taken by South African photojournalist, Kevin Carter, while on assignment to Sudan. He took his own life a couple of month later due to depression.

"The parents of the children were busy taking food from the plane, so they had left their children only briefly while they collected the food. This was the situation for the girl in the photo taken by Carter. A vulture landed behind the girl. To get the two in focus, Carter approached the scene very slowly so as not to scare the vulture away and took a photo from approximately 10 meters. He took a few more photos before chasing the bird away."
In 1994, South African photojournalist Kevin Carter won the Pulitzer prize for his disturbing photograph of a Sudanese child being stalked by a vulture. That same year, Kevin Carter committed suicide.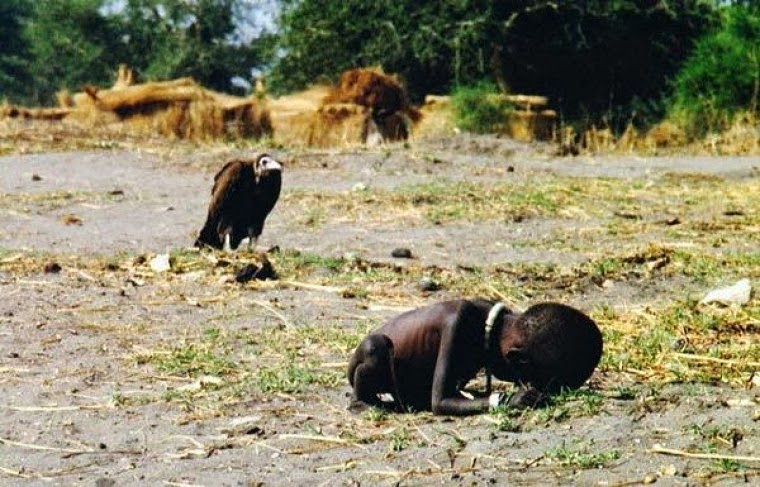 Without the facts surrounding his death, this behavior may seem surprising. But Carter received heaps of criticism for his actions. While in Sudan, near the village of Ayod, Carter found a small, emaciated toddler struggling to make her way to the food station. When she stopped to rest, a vulture landed nearby with his eyes on the little girl. Carter took twenty minutes to take the photo, wanting the best shot possible, before chasing the bird away.
The photo was published in The New York Times in March of 1993, and sparked a wide reaction. People wanted to know what happened the child, and if Carter had assisted her. The Times issued a statement saying that the girl was able to make it to the food station, but beyond that no one knows what happened to her. Because of this, Carter was bombarded with questions about why he did not help the girl, and only used her to take a photograph.
However, Carter was working in a time when photojournalists were told not to touch famine victims for fear of spreading disease. Carter estimated that there were twenty people per hour dying at the food center. The child was not unique. Regardless, Carter often expressed regret that he had not done anything to help the girl, even though there was not much that he could have done, in all actuality.
This was his suicide note; very depressing:
"I am depressed … without phone … money for rent … money for child support … money for debts … money!!! … I am haunted by the vivid memories of killings and corpses and anger and pain … of starving or wounded children, of trigger-happy madmen, often police, of killer executioners … I have gone to join Ken [recently deceased colleague Ken Oosterbroek] if I am that lucky."
Suicide method: On 27 July 1994 Carter drove to the Braamfontein Spruit river, near the Field and Study Center, an area where he used to play as a child, and took his own life by taping one end of a hose to his pickup truck's exhaust pipe and running the other end to the passenger-side window. He died of carbon monoxide poisoning, aged 33.