Life is unfair to most people in different ways. Some might be complaining about their job, while someone else can't have enough of bitching about their parents. You get the drift.
But some people have it really tough. And still shine through. After all, like Chris Rock says, "Pressure makes diamonds, not hugs".
Today we'll tell you a story, of a girl, a teenager just like so many of you. Life was particularly difficult for her; no, no bad breakups or boyfriend cheating on her. She lived in a bucket.
Yes, you heard us right.
Rahma Haruna was born in Kano, Nigeria. She was a healthy baby at birth too. However soon after, she was diagnosed with a rare disease that took away from her, all her limbs. Her growth started getting delayed and failed to reach critical points.
Kisah Rahma Haruna, Gadis Muslim Yang Hidup Di Dalam Baskom Plastik https://t.co/hfMDwg3z11 pic.twitter.com/jkLa8FzRg9

— @yesmuslim_id (@yesmuslim_id) 14 July 2017
You know how it's easier to face the woes of life if one has but a full stomach? Well her family didn't even have that. They had poor living conditions and poor economic health as well.
Just before Haruna left for her heavenly home, resting in peace, free of all pain and suffering, her mother was interviewed about her by the Daily Mail: "From six months when she had begun to learn how to sit, that's when it had all began. She hadn't learned how to crawl. It started with a fever and that was it. Then the stomach pains. Then her body parts like hands and legs. She couldn't use any of the aches struck her."
Despite all the hurdles and odds, as long as she was alive, Haruna was helped, supported and provided for by her family to the best of their ability. She herself acknowledged that.
Limbless teen Rahma Haruna who lived in plastic bucket dies aged 19 https://t.co/fBMB0auHtU pic.twitter.com/oLeVt6XLva

— Belfast Telegraph (@BelTel) 29 December 2016
But one member of the family helped her out especially: her younger brother Fahad. The 10-year-old helped his sister is almost all of her day-to-day activities from feeding to bathing. She used to always light up at the prospect of visiting their relatives and he would oblige her that too, carrying her in a bucket to their places.
Sani Maikatanga, a local journalist is responsible for the world knowing about Rahma's story. To be honest, the meager act of surviving as a mangle of a body and a head makes Rahma braver than all of us combined.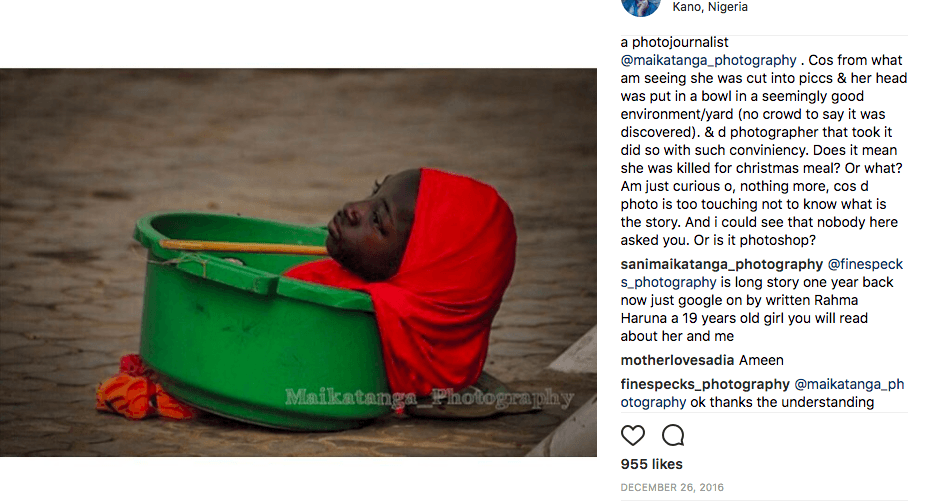 Her story went viral in 2016.
The world took notice of not only her plight but the dismal conditions around her.
[COLUMN] A EULOGY TO RAHMA HARUNA; OUR BEACON OF STRENGTH By Abdul Abubakar https://t.co/ETWxcivO4t pic.twitter.com/jS2IGG2i4k

— ItzJaybeatz (@ItzJaybeatz) 27 December 2016
Rahma taught us in her brief life that dreaming was possible even when you can't stand up on your feet. It was her dream to be an entrepreneur, to open a small grocery shop in her neighborhood from which her neighbors, friends, and family could buy things.
For her, hoping was a luxurious passion and she did indulge.
Watch her story here: