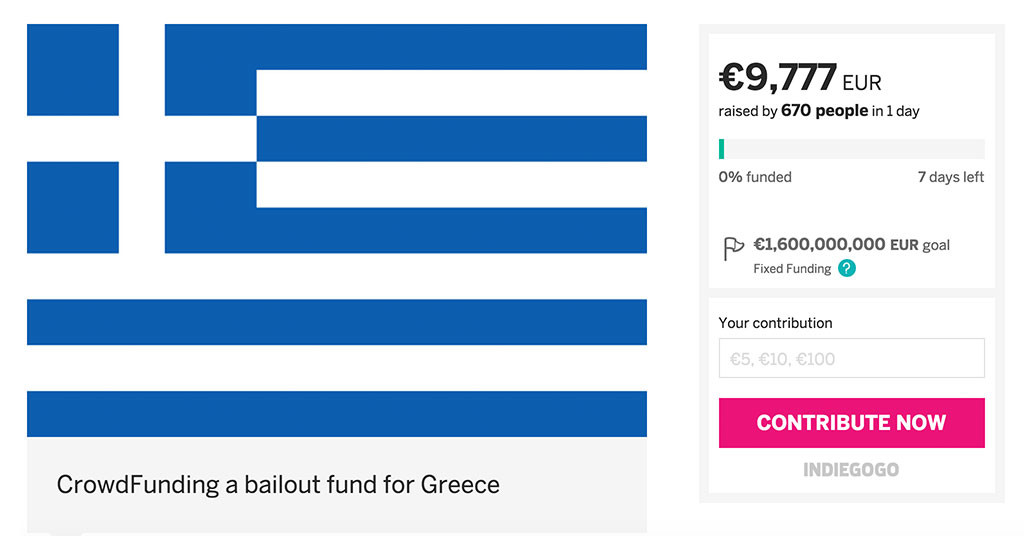 Negotiations, ultimatums, referendum, sessions and meetings … There easiest way to find the solution to the Greek crisis.At least Tom Phinney believes that.
British businessman started online fundraiser for Greece in order to collect 1.6 billion. It is quite certain. Until now it has gathered 11,000 people and only seven days left.
"The EU is home to 503 million people. If we all give a few euros, we can save Greece and soon put back on the easy road. " says Phinney.The 1.6 billion that Greeks need sounds a great amount, but it is only just over 3 euros for every European, continues his arguments the British businessman."Come, let's order a Greek salad, along with a shot of ouzo or a glass of Assyrtiko wine and clear up this mess," he continues.
For 3 euros you get one postcard of Alexis Tsipras from Greece. They made there and will be mailed from Greece to give a little boost to printers and post offices.
For 6 euros, you will get one Greek salad.
For 10 euros, a small bottle of ouzo.
For 25 euros a bottle of Greek wine.
But what in the unlikely event that someone give the full amount?
"For 1.6 billion., We will find a Greek island. There are an estimated 1200-6000 in Greece and one will belong to you. This should of course be validated by the very Greek prime minister" writes Phinney.
As to whether all this enough? "OK, you may just need a while to get the money in the Greek economy, but what we have to lose?" says Phinney and ends with the promise that all proceeds will go to the Greeks and all products will be given to return will be 100% Greek.
See the website of online fundraising.
By James Red, Truth Inside Of You