McDonald's worker with Down syndrome celebrates 30 years in the job 
Russell O'Grady, 48, donned the uniform when he was just 18-years-old
Russell is now a local hero where he lives in Northmead, western Sydney 
His father Geoff is overwhelmed by the community support for his son

A McDonald's worker with Down syndrome has been delighting customers at his local McDonald's for the past 30 years.
Russell O'Grady, 48, first donned the fast food restaurant's uniform in 1986 when he was just 18-years-old. Now, 30 years later, he is a local hero at Northmead McDonald's, in Sydney's west.
His father, Geoff O'Grady, told Daily Mail Australia his son had become 'the best-known person in Northmead' since he started working at McDonald's.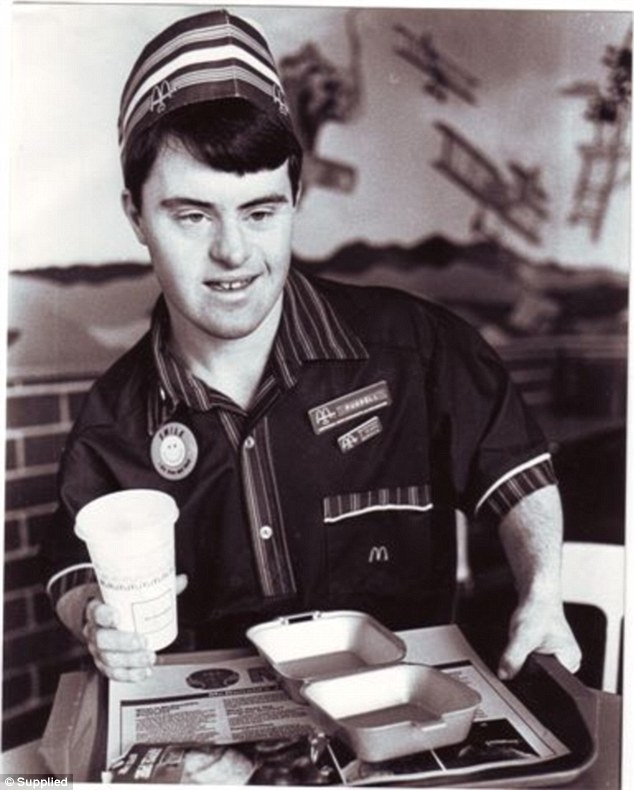 'People stop him on the street and shake his hand,' Geoff said.
'He's very affectionate, dearly loved and appreciated, to such an extent that we just don't believe it.'
Geoff said he was 'extremely proud' of his son, but never thought the community would embrace him in the way it has.
'Customers love him just as we love him,' he said.
Geoff said his son's career has given him a different outlook on life.
'Somebody said to him "are you handicapped?" and his answer was "I used to be when I went to school, but now I work at McDonald's",' he said.
'Because other people who work there are normal, he assumes he is now too.'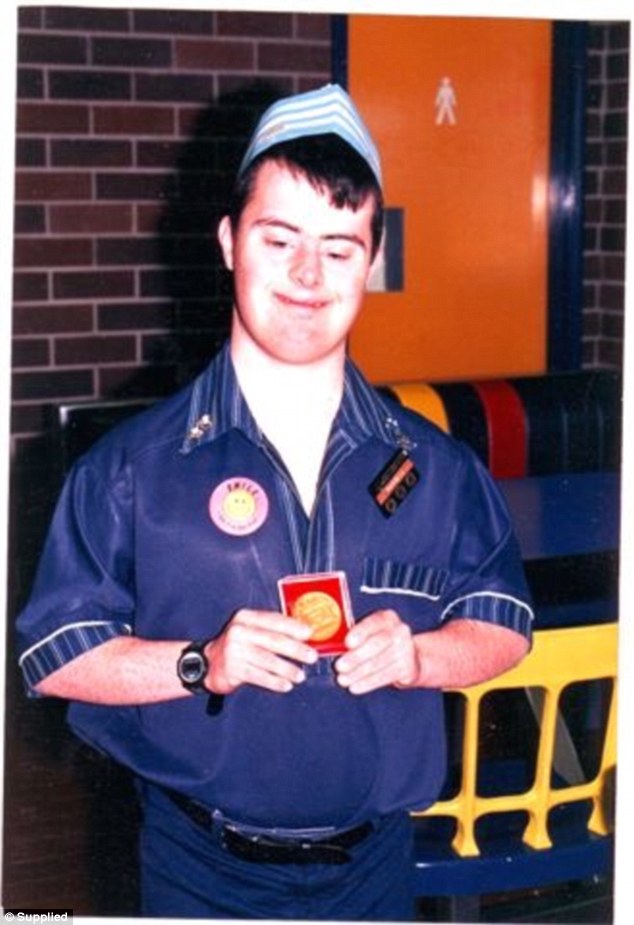 Russell's career began with work experience, but when he proved himself a good worker, he moved into a secure job with McDonald's packing party boxes.
He also tried his hand at other duties in the restaurant, even trying his hand in the kitchen.
Geoff said the staff at Northmead McDonald's accepted him with open arms, and made Russell's work life more enjoyable than he thought possible.
'These people are absolutely fantastic, if it wasn't for their attitude he wouldn't still be working,' he said.
Store assistant Katie Chlyder told Daily Mail Australia that Russell made the restaurant a brighter place.
'You feel happy that you have him here, he's just nice to have around,' she said.
'He's really sweet, he always comes up to me to shake my hand hello and goodbye without fail, just a really sweet gentleman.'
Ms Chlyder said it was Russell's job to clear trays, sweep the restaurant and – his favourite job of all – greet customers.
She said Russell has his quirks, just like anyone else.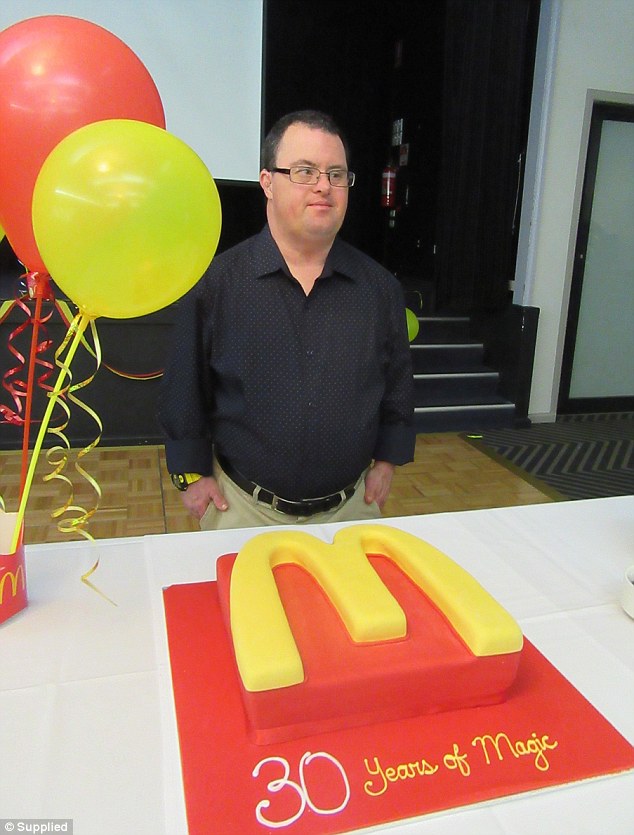 'He's kind of funny, he walks to work, and you'll ask him what he's listening to, and he'll always say: 'The Beatles', he loves the Beatles,' she said.
'The Beatles and Abba.'
And after 30 years of putting smiles on the faces of staff and customers, Russell's happy-go-lucky attitude has become a trademark of the local store, second only to the fast food franchise's golden arches logo.
Russell is just one of hundreds of people living with a disability who has been trained and placed in a job through Jobsupport.
Jobsupport assistant manager Kate O'Grady told Daily Mail Australia the job noticeably changed Russell's life.
She said it also gave him access to the community he otherwise would never have had.
'There have been a lot of people who've worked with him and shared that connection,' she said.
'In fact there's a man who worked with Russell when he was a teenager and now his children work with him.
'He's a very familiar face to a lot of people.'
Mrs O'Grady said Russell grew so popular he could go very few places where he wasn't recognised.
'He's an incredibly social person and can hardly walk down the street without people stopping to chat with him or buy him a beer at the club.'
By KATE DARVALL FOR DAILY MAIL AUSTRALIA
Credits: Daily Mail.