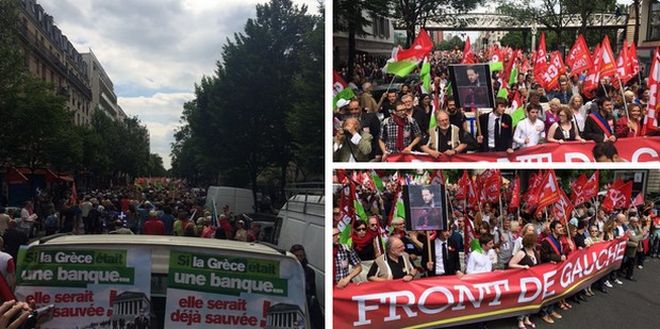 Today the European institutions and governments, attempting to bend to Greece, to drown the voices that suggest another Europe, that of dignity, solidarity and social justice.
From 20 to 27 June, a big week of European mobilization will take place. All together in Rome, Berlin, London, Athens, Madrid, Brussels, Paris and many other cities will answer to the Greek protests "United against austerity and social injustice."
Hour ago in Oplazt, beginning of #20jBerlin demo against Europe austerity and in solidarity wirh Greece #changeEurope pic.twitter.com/cvs9zITEQX

— Montecruz Foto (@Montecruzfoto) June 20, 2015
15:17 #20jberlin Demo now at Wilhelmstr #Berlin #stopkillingRefugees #20j pic.twitter.com/jAihNBnp0T

— Enough is Enough! (@enough14) June 20, 2015
Solidarité avec le peuple grec ! pic.twitter.com/bWk4C5YVsx

— Paul Vannier (@Vannier75) June 20, 2015
Demonstrations

in Paris

:

"

Greece,

a

hope

for Europe

"
The call, given via the Internet, co-signed many alternative organizations, French and European associations, unions, left parties and French NGOs. Participates and collective initiative with the slogan: "Greece, a hope for Europe" which has gathered 20,000 signatures.
In the "calling" message noted inter alia:
"The Greek people, voting for a non-conservative government decided to break the neoliberal consensus. Solidarity and massive popular support, will help to achieve the best result in a head-on collision with the European economic and political elite. Let's all fight together for a Europe of dignity and solidarity, than a Europe of profit, a European fortress. We call on all social and political forces to participate in the Week of Solidarity and create around them strong national alliances to support the European fight against austerity. "

By Jonah Winter, Truth Inside Of You.