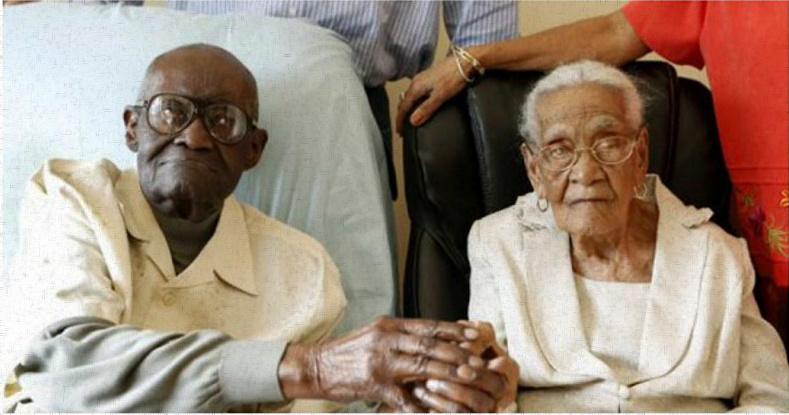 This is the couple who has been together for nearly a generation. Duranord Veillard turned 109 in February, and Jeanne turned 105 in May.
They got married at the time when Franklin D. Roosevelt was elected as president, in November 1932. They did not even suppose that they would live this long and that they would live up to this age together. They are a living example of the couples who live their vows spoken on the wedding day, spending the rest of their lives together.
Duranord and Jeanne Veillard have had five kids. In 1968, after Duranord had lost his job as a judge and had been awarded a visa to visit the United States, they moved there, and got settled in Spring Valley.
Here, he has found a new job as a lab technician at the Good Samaritan Hospital, where he stayed and worked for ten years, and then retired. Today, they are living with their daughter Marie Veillard.
You probably wonder what is the secret to their long-lasting love and happiness and how did they manage to stay calm and happy family. Well, as Duranord Veillard explains, that's God's thing. This year, they celebrated 82 years of marriage. They also celebrated their birthdays in the closest circles of their family.
Duranord is known as a virtuous and honorable man. According to their son, Vely Veillard, 62, there was an interview at the ceremony where his father told the reporter that he can remember every detail of his life and tell them all about their memories. He even offered the reporter a piece of his birthday cake, which was frosted and at the top, there was a candle with the number 108.
Next to him, there sat Jeanne Veillard, in a white linen dress and a pair of pink slippers, not letting go of his hand. She was asked how she met her husband. She answered that this has happened in the street. Everyone smiled because of her answer.
According to the Veillard family, Duranord and Jeanne are the oldest married couple in the region. They have lived to have twelve grandchildren and even one great grandchild. Even today, every morning, Veillard wakes up at five in the morning and works out. After those five to seven pushups he does, he drinks a cup of tea, eats his oatmeal and fresh fruit, and his day has started. They usually have fish and fresh vegetables for lunch and dinner respectfully, and go to bed pretty early.
Even though the couple is mostly indoors because they cannot walk without assistance, and they only leave their house when they need to see the doctor, they are both looking forward to celebrate another landmark in their life.
Credits: Make Your Life Healthier.