It is true that our society is not very inclusive when it comes to people with any kind of disability. It is difficult to communicate your exact thoughts and feelings to someone you know, let alone a stranger. Disability adds to the problem of communication gap. For someone who cannot hear, sign language is the only key to understanding what is going on around them. It is not quite possible for each and everyone to know the special language which leaves deaf people with very limited knowledge of the world. They often do not know what to do in a tricky situation because, for other people, it is not of great significance.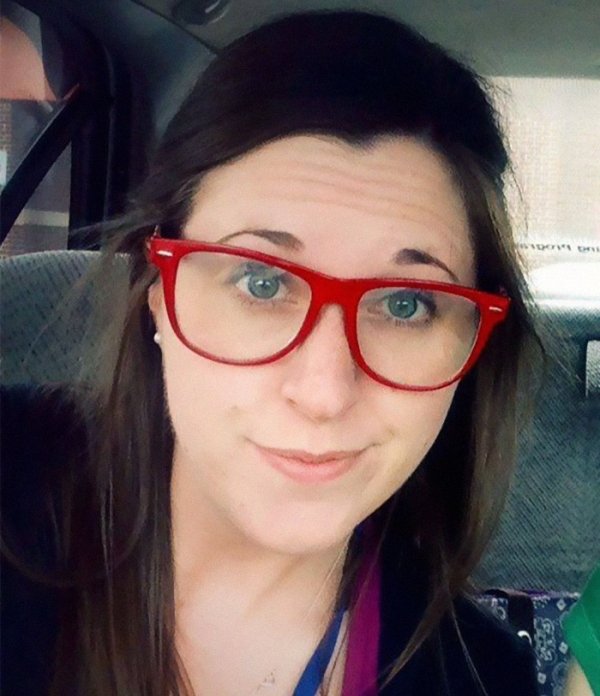 A first-grade teacher, Anna Trupiano, works at a school that provides education for hard-of-hearing and deaf children. Trupiano believes it is her duty as a teacher to guide her students so that they do not find it difficult to stand shoulder to shoulder with others of their age. It is an exhausting work that requires immense effort, patience, and persistence. She sometimes struggles to get her point across but succeeds nonetheless. It is surely a grave and tiring profession, but recently, she took to social media to share a rather hilarious incident.
We do not talk about poop and fart in public now, do we? But this teacher went against this social dictum as she was moved by an incident in her class. A tiny 6-year-old passed gas loudly and the other students broke into peals of laughter, much to the amazement of the kid. The innocent child was completely unaware and could not decipher the reason behind his fellow pupil's reactions. Yes, the kid was deaf and didn't know that farts make a sound, which is why Trupiano took to social media to create a small change.
The teacher explained how these things that come naturally to us because of our upbringing are new to disabled children. "Linguistic access" seems to be the main constraint that isolates these differently-abled kids.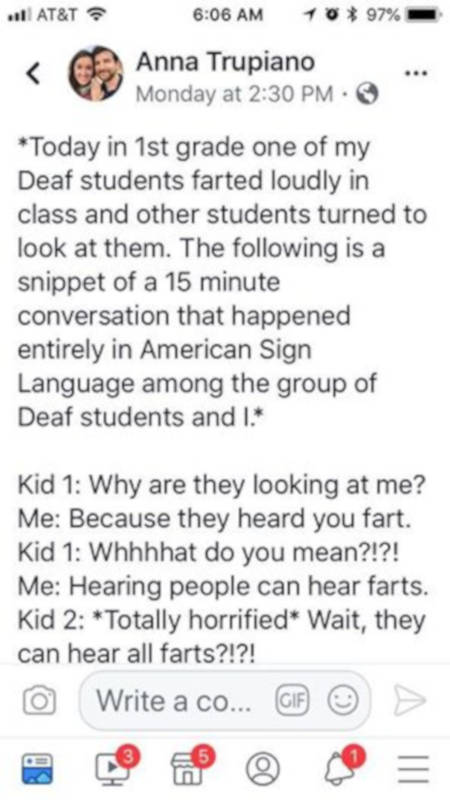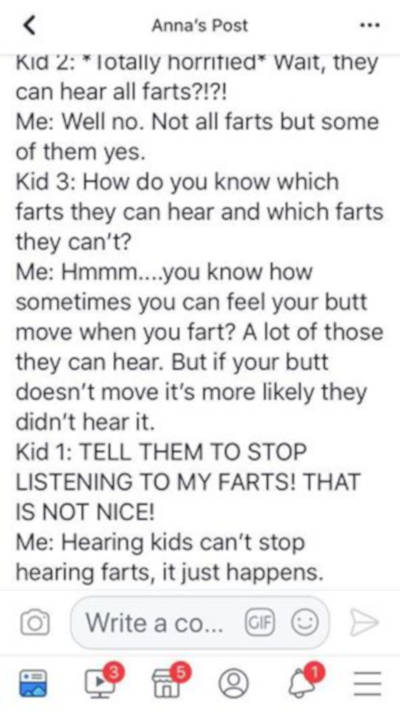 She has taken it upon herself to make these kids understand their bodies fully. She does not want them to feel humiliated and thus tries to make them aware of the basic functions of the human body. Trupiano said, "It would be so great for them to have that language access anywhere they go" and encourages people to learn their language.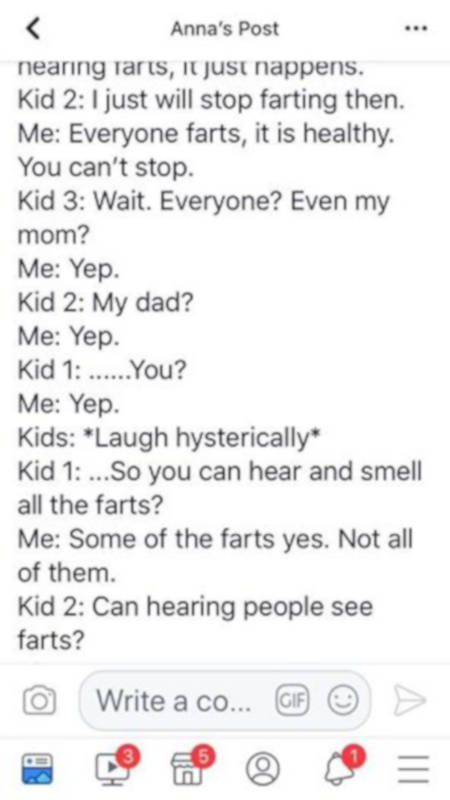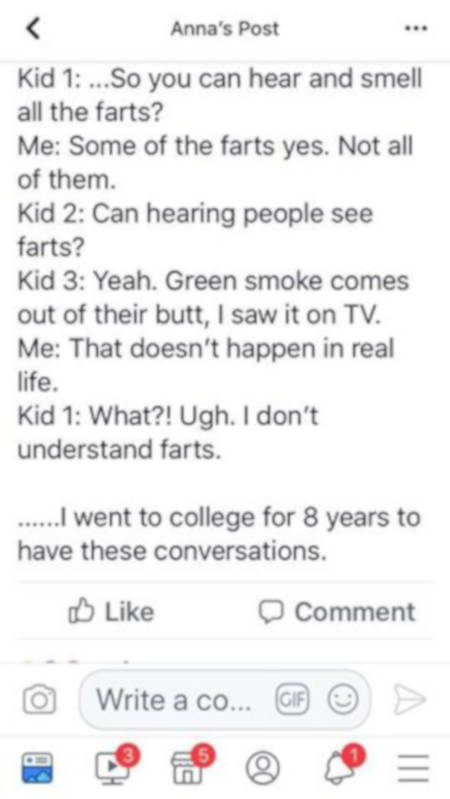 She posted about it in a funny manner where the 6-year-old is horrified to hear that not only can people hear farts, they can smell them too! The kid added, after a lot of confusion about which fart is loud and which isn't, "I will just stop farting then!" Trupiano then explained it is absolutely healthy and everyone does it. The all the more confused kid concluded that farts are difficult to understand!
But we appreciate the efforts that this teacher made to at least address such an uncomfortable topic openly. We hope that this makes people more conscious regarding their conduct with differently-abled people.