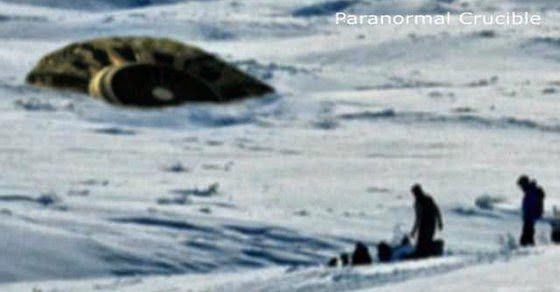 Have you ever been curious of the supernatural? Do you like hearing about strange sightings like the loch ness monster or Big Foot if, so you might be in for a treat!

On February 18th, reports began flooding social media of strange lights of Lake Winnipeg.
"UFO crash reported on the Jack head Reserve in Manitoba, Canada. Apparently the Canadian Military have vehicles lined up on north shore. They are threatening anybody who tries to take pics…lots of eye witnesses. Thur is round object being hauled across the lake being pulled by snowmobiles and Bombardier … Something was seen going down by eight fishermen they reported it…why would they not let the media know if it was a plane crash."
It was said that Trucks and police vehicles arrived at the site. One person was smart enough to bring a video camera stating, "Apparently a disc shaped craft was seen crashing through the ice on the lake, at least one person got photographic evidence but has since been detained by the Canadian military. UFO crash in rural Manitoba Canada: A UFO crash landed into a frozen lake within the last 24 hours on an Indian reservation in rural Manitoba. "I have contact with a former resident of the reservation and their family still lives on the reservation and informed them about the situation this evening.
I have also been informed that nobody is allowed to leave or enter the reservation at this time and that the military has been going door to door talking with residents. They are telling the residents that they are conducting emergency training exercises, but there has been an extreme cold front in Manitoba over the last 2 days and it is extremely dangerous to spend time outdoors for any period.
The military has moved in all their equipment effectively blocking any view of what may have crashed into the water or what they are doing there, but I'm sure they are recovering the evidence.
I will get back in touch within a few hours, I was told the name of the reservation but it was very long and hard to pronounce, I will get the exact spelling of the reservation in a few hours when I meet with my contact, and I will forward any new information over."
Credits: Truth-Code.