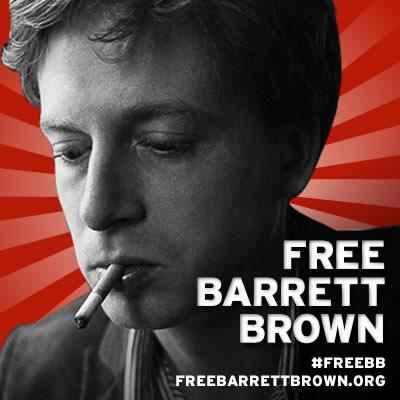 This week, journalist Barrett Brown was sentenced to 63 months in federal prison for reporting on information that was revealed in hacked documents.
Brown has spent the past two years in prison awaiting his trail, so he still has 35 months of his term left to serve.
Federal investigators accused Brown of being a "spokesperson for anonymous" simply for reporting on information that they hacked and being loosely supportive of them. In a powerful statement released just after his sentencing, Brown wrote the following:
Good news! — The U.S. government decided today that because I did such a good job investigating the cyber-industrial complex, they're now going to send me to investigate the prison-industrial complex. For the next 35 months, I'll be provided with free food, clothes, and housing as I seek to expose wrondgoing by Bureau of Prisons officials and staff and otherwise report on news and culture in the world's greatest prison system. I want to thank the Department of Justice for having put so much time and energy into advocating on my behalf; rather than holding a grudge against me for the two years of work I put into in bringing attention to a DOJ-linked campaign to harass and discredit journalists like Glenn Greenwald, the agency instead labored tirelessly to ensure that I received this very prestigious assignment. — Wish me luck!"
This case and this sentence have heavy implications for the world of journalism, and is a blatant attack on the free press.
In an earlier statement speaking of his decision to reject a plea deal, Brown talked about these dangerous implications, saying that:
" Last year, when the government offered me a plea bargain whereby I would plead to just one of the eleven fraud charges related to the linking, and told me it was final, I turned it down. To have accepted that plea, with a two-year sentence, would have been convenient—Your Honor will note that I actually did eventually plead to an accessory charge carrying potentially more prison time—but it would have been wrong. Even aside from the obvious fact that I did not commit fraud, and thus couldn't sign to any such thing, to do so would have also constituted a dangerous precedent, and it would have endangered my colleagues, each of whom could now have been depicted as a former associate of a convicted fraudster. And it would have given the government, and particularly the FBI, one more tool by which to persecute journalists and activists whose views they find to be dangerous or undesirable."
Barret had articles and blogs featured in numerous publications including the Guardian, Vanity Fair, Huffington Post, Businessweek, True/Slant, Skeptical Inquirer and many others. He has appeared as a guest on MSNBC, Fox News and Russia Today and as an interviewee in three recent documentary films: We Are Legion, Future Radicals, and Terms and Conditions May Apply.
Freelance journalist and friend of True Activist, Derrick Broze was on location at Brown's trial, and has been following his story closely from the beginning. His full report was featured at Ben Swan, and covers some of the intricate details of the trial.
Brown took a special interest in covering topics that were truly important, and often ignored by the mainstream media. His positivity in the face of such a horrible situation is inspiring, and it will be interesting to see the work that he does in the future, possibly even behind bars as many other political prisoners have.
John Vibes writes for True Activist and is an author, researcher and investigative journalist who takes a special interest in the counter culture and the drug war. 
Credits: True Activist.