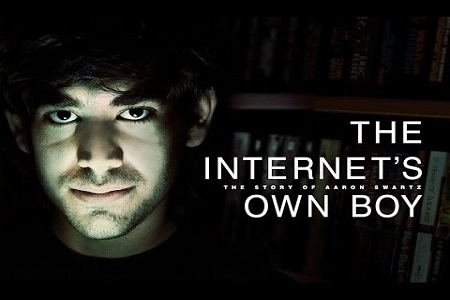 Stan Pauler,  Truth Inside Of You
The Internet's Own Boy follows the story of programming prodigy and information activist Aaron Swartz. From Swartz's help in the development of the basic internet protocol RSS to his co-founding of Reddit, his fingerprints are all over the internet. But it was Swartz's groundbreaking work in social justice and political organizing combined with his aggressive approach to information access that ensnared him in a two-year legal nightmare.
It was a battle that ended with the taking of his own life at the age of 26. Aaron's story touched a nerve with people far beyond the online communities in which he was a celebrity. This film is a personal story about what we lose when we are tone deaf about technology and its relationship to our civil liberties.
"As a teenager, Aaron Swartz was a computer-programming prodigy with an unquenchable thirst for knowledge. After emerging as a pioneer of Internet activism, education, and politics, he was indicted on multiple federal charges in 2011 and 2012, setting off a complex chain of events that left the Internet community reeling. Shortly thereafter, at the age of 26, Swartz was found dead of an apparent suicide in his Brooklyn apartment. His family, friends, and supporters immediately blamed the prosecutors of the case, who aimed to put him in jail for 35 years and brand him a convicted felon for life. Swartz was persecuted for the very rights and freedoms for which he stood, and that ultimately broke him.
Weaving together home video footage and anecdotal interviews from his closest confidants, Brian Knappenberger creates a dynamic portrait of a precocious boy who grew up to lead the Internet community into a new age of data sharing and free speech. "- R.K.
https://www.youtube.com/watch?v=-aeLCroN4Ew&feature=youtu.be
Cast and Credits
Director: Brian Knappenberger
Screenwriter: Brian Knappenberger
Executive Producer: Brian Knappenberger
Composer: John Dragonetti
Associate Producers: Denise Gaberman, Jeffrey Kanjanapangka, Suzanne Danziger, Kate Coe
Editors: Bryan Storkel, Michelle Witten, Jason Decker, Andy Robertson, Brian Knappenberger
Contact: Brian Knappenberger / Luminant Media / [email protected]edia.com
Check out here THE FULL STORY OF AARON SWARTS – THE INTERNET'S OWN BOY http://t.co/MeWj4oCcBB #AaronSwarts #Anonymous pic.twitter.com/kzDtOtp96P

— Truth Inside Of You (@TruthInsideOfU) July 3, 2014