A mini documentary about the moments following the decision of Greek government for closing up the ERT (Public Radio Television), at 11th June of 2013. Research and production: Sotiris Bekas – Stavros Symeonidis.
Anonymous hackers have published a video statement to warn the Greek government that it has once again become a target of the hacktivist movement. The threat comes in light of the government's decision to shut down ERT, or Hellenic Broadcasting Corp, in an effort to cut down on public spending.
Greetings citizens of the world, we are anonymous,
Government of Greece. It has come to our attention, that you continue fire up people who have children.
This Is Unacceptable. And the worst of all you fire 2656 peoples.
You must know that you are our target now. You should expect us at 15th Of June.
We Are Anonymous. We Are Legion. We Do Not Forgive, We Do Not Forget, Expect Us, Greek government
Tens of Thousands protest in Greece over ERT shutdown for a week now
Former workers at Hellenic Broadcasting Corp, or ERT, have for a week occupied the building to continue broadcasts in defiance of the government. Greece's two largest unions have staged a general strike against the broadcaster's closure.
The protest disrupted public transport and left state hospitals running on skeleton staff, while flights were grounded for two hours.
Rallies were held around Greece, including Thessaloniki, the country's second largest city, where 7,500 gathered, according to police estimates.
It is a move which has angered journalists, politicians and unions alike.
"It is an incomprehensible act. I don't believe it is happening in a democratic country, as I don't believe that that something like that has happened in any democratic country," said journalist Stella Papapopoulou.Yiorgos Savvides, of the Greek Journalists' Union Cnfederation believed the government had a wider agenda:"They want to shut down ERT in order to manipulate the media as it suits them. They want to take full control all the mass media."With two parties within the government's three party coalition opposing the move this could be a major test for Prime Minister Antonis Samaras.Euronews' Stamatis Giannisis who was in Athens said:

"The government's decision to close down the public broadcaster has caused the most serious split so far in the in three party coalition government. But the closing down of ERT is only the tip of the iceberg as there are also plans to shut down or to amalgamate a large number of so called public sector companies."
In the meantime, ERT employees are defying the government's orders, doing their best to keep broadcasting.
Journalists from Greece's state broadcaster ERT have defied a government order to close it down as part of the latest public spending cuts imposed to meet the terms of the country's bailout deal.
ERT, or Hellenic Broadcasting Corp, ceased broadcasting in some locations overnight last Tuesday as the government imposed shutdown took effect, with screens going blank and 2,500 staff fired with immediate effect. It is believed to be the first time a state broadcaster in Europe has been closed down by its government in the post-war era, with the move attracting widespread condemnation from inside Greece and also overseas.
ERT employees managed to keep the service going through the night and have continued broadcasting on the internet via Ustream, while thousands of protesters remained outside its headquarters north of Athens.
However, opposition to the ERT shutdown snowballed overnight, threatening to blow up into a major political crisis for the Greek government nearly a year after it took office.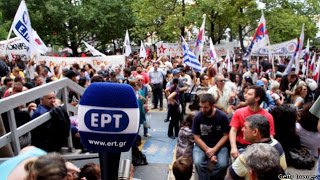 EBU urges EU leader to overturn Greek government decision.
The president of the European Broadcasting Union has written to the president of the European Commission urging him to use his powers to force the Greek government to reverse its controversial decision to shut down state broadcaster ERT.
Jean Paul Philippot, EBU president, and its director general Ingrid Deltenre wrote to the Greek prime minister urging him to "use all his powers to immediately reverse this decision".
In the letter, they said: "While we recognise the need to make budgetary savings, national broadcasters are more important than ever at times of national difficulty."
Jean-Paul Philippot said Europe "cannot remain indifferent" to the latest Greek political drama as it is partly responsible, as it was the so-called "troika" – the International Monetary Fund, the European Union and European Central Bank – which demanded savage cuts to Greece's bloated public sector as part of the bail out programme.
"It is our unfortunate experience that the existence of public service broadcasting has come under systematic threat in countries which have been pressed by the European Union or the troika to make savings," said Philippot in a strongly worded letter to José Manuel Barroso on Thursday.
The European Broadcasting Union, the body which represents all public service broadcasters in Europe, expressed dismay at the decision to close ERT, which became a founding member of the EBU in 1950. The EBU is on standby to step in and try and help ERT fully reopen.
The European Federation of Journalists said the shutdown of Greece's state broadcaster was "absurd".
Source: KnowledgeOfToday